"Not only are we digital immigrants, we are also media dinosaurs. We enjoy thumbing through glossy magazines, and maybe still subscribe to a daily newspaper. And scattered around our homes and offices are veritable graveyards of physical media — old tapes, vinyl records, floppy disks, and magazines.
― Ian Lamont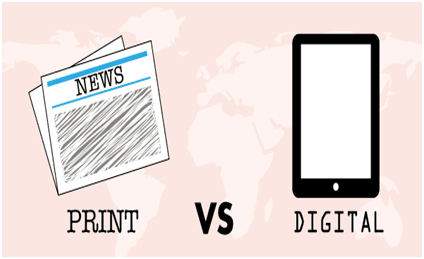 It is a universal fact that mobile phones and the internet have taken over the world with their speed and far-reaching network. In our digital age, digital media is better and far more advanced than print media. However, a question arises whether digital media will completely take over the news and advertising market, leaving little for the print media. Are we losing the print media over modern-day technologies? Digital news is now available to anyone anywhere at the touch of their fingertips? Below we will analyse the impact of digital media over print media as of today and how these circumstances will change in the future. We will cover the meaning of digital and print media, their positive and negative influence on each other, and the overall news industry.
What Is Digital Media?
Digital media is an aspect of the modern lifestyle developed in the last 30 years. It is an ever-widening and highly interactive digital field. The present age is the age of digital media. Digital media refers to online news platforms like Times of India, NDTV, India Today and social media platforms such as Facebook, Twitter, Instagram, etc.
It is a unique form of media because it is created, modified and distributed on digital electronics devices, unlike traditional forms of media such as newspapers and magazines. The speed at which digitisation came about is faster than we could have imagined. With the digital media age gone are the days when we used to wait for breaking news and reporters to inform us about the world. Today, every kind of news is available at our fingertips, and the wait is finally over.
How is digital media different from print media?
Print media was always a one-way communication platform. With digital media taking up all the space in the advertisement market, it provides consumers with a two-way communication possibility. In other words, people get to be the consumers and the producers. Digital news sharing is a recent development slowly taking over the most crucial aspects of our lives. On the other hand, print media primarily existed before the internet era. It is not that print media has completely lost its marketplace, but we're witnessing no change in its profitability margins.
The Positive Influence Of Print Media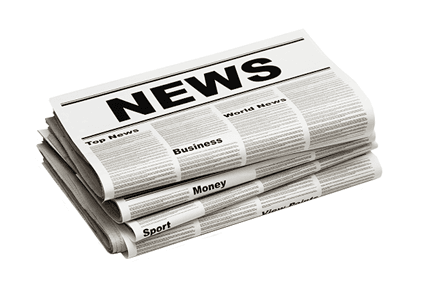 Simplicity
Newspapers and magazines are not complicated mediums; their structuring and appearance are simply bits of news in segments and fractions of an enormous page folded in half. In its simplicity, we find our escape.
Physical Presence
With print media, you can never go wrong about keeping it with you. Once an individual has paid money and purchased a novel, magazine, or newspaper, they have the right to keep it with them, and it belongs to them and can be shared with friends and family members.
Allows Disconnect
A newspaper or a magazine gives us a break from our busy lives of sitting and staring at our laptops or digital screens. It is a relief for the eyes and the mind, allowing us to enjoy the physicality of our existence and relax.
The Negative Influence Of Print Media
Doesn't Remain Up-To-Date
Once a news item is printed in a newspaper or an article is published in a magazine, it is not possible to update it immediately or on the following day. This is a major disadvantage provided by print media.
Limited Reach
Print media is not accessible anytime, anywhere. It is meant to be purchased or received by a newspaper delivery man at a fixed time during the day, and it cannot be made available to everyone free of cost. Thus, it has a limited reach due to its physical nature.
No Feedback
Since consumers who read through print media cannot post any comments or send replies via the newspaper or magazine medium to get a response immediately, even if a customer decides to send a feedback message, it takes days or even months to receive a reply. Hence, the feedback exchange mechanism is outdated and slow.
The Positive Impact Of Digital Media
Cost-Effective
Digital media is more cost-effective as it saves paper, ink and whatnot. The data is stored in electronic form and does not require physical storage space; no printing or manufacturing is required.
Online Content
Digital data provides easy access to online information, which can be news or facts. It is much more convenient to read news on mobile phones by scrolling through or using the auto-read feature.
Easy Sharing
In the digital media world, sharing information is easier and faster. It takes only a few seconds to share relevant information with a friend or a family member who can read it to gain valuable insights.
The Negative Impact Of Digital Media
Lacks Attention Span
All advertisements fill up the content space, and it becomes harder to focus on the material at hand. Since technology is so fast, people usually spend less than a minute reading one news article. Hence, their attention span reduces drastically.
Lacks Legitimacy
Any information spreads rapidly, even overnight, in the digital media world. So, we must always double-check and clarify our facts and data gathered through the digital media platform. Anyone can share anything, which amounts to cramming news, and fake news gets circulated quickly.
Lacks Emotional Connection
Since the events are not read with enough attention, focus and a clear mind, the emotional impact of the words reduce drastically. The print media makes the reading more engaging and induces emotions properly.
Conclusion
In print media relevant news or information is shared with the public through a printed medium such as a newspaper or a magazine. In contrast, digital media shares information or news material through an electronic device. It can also be seen that print media is a traditional communication method.
On the other hand, digital media is a more advanced and recently developed means of communication. Both print and digital media have pros and cons, which can be seen above. To sum it up, digital media is gaining more popularity because it is easier, cheaper and faster. However, print media is still running in the market with the same spirit as before.

Add to favorites