Shachi Singh and Her Story of 'Ehsaas'
Shachi Singh was travelling about 14 years ago when she met a 10-year-old boy in tattered clothes at Charbagh railway station in Lucknow. The boy was selling her a water bottle. He was rather bagging her to buy the bottle. His constant begging for selling the bottle to her made Shachi sympathise with him. She however noticed that it was tap water in the mineral water label bottle. When the boy moved away from her, a policeman came and started beating the boy mercilessly.
This incident hurt her and she decided that she would do something for these kids in the future. She could not help but think that these kids are forced to work and earn money at the age when they are supposed to study and play. Moreover, they even had to face the repression of the law police authorities.
Shachi Singh then pursued her masters in Social Work and finally, it was time for her to take steps toward what she had decided a few years ago
In 2002, she established an NGO 'Ehsaas' for the poor unfortunate kids. The NGO works for the kids living on the streets and at the railway station. Shachi Singh's efforts and her certainty about the decision she had made a few years back paid off when Charbagh became the first railway station in India to be free of child labour.
Moreover, the government railway police officers have also been appointed as special child welfare officers to protect those underprivileged children. Shachi Singh's NGO has rescued more than a hundred kids. These kids have been given a roof over their heads. 
Most importantly, the organisation even provides education, counselling, vocational training, and other such activities to bring them to the main stream. So that they can also have a normal childhood and do better in the future. Above all, the organisation also makes efforts to reunite those kids with their families who get separated for some reason.
Although, the initial journey was difficult for both her and those children
They were scared and unaware of what was happening to them. They would think that they have probably been imprisoned. So, they would run away and be scared of the beatings if caught up. To make them understand that the organisation is friendly and safe, the team had to make several efforts. 
Sometimes, they even had to fight with the police which in turn won them those children's trust gradually. After gaining a little trust with them, the children would often reach out to the organisation with their smaller problems which were then resolved by the team.
This was though not the end of the struggles for the organisation to thrust its roots as the government railway police and the railway protection force were sceptical of their work and did not take the organisation seriously then. They used to think that the team was clashing on their territory. Hence, they would refuse to talk to them and threaten them sometimes. When Shachi Singh saw that nothing was working out for the welfare of those kids, she realised that she needed to make the railway police force realise that even those kids have rights and needs.
She could not believe how they could be so cruel to such small children who were only struggling for their survival
She even stated that sometimes some of the kids would come to them and complain about the police officers that they had snatched their day's earnings by saying it was illegal. Then, the team would stand by those children and fight for them. The team's efforts went on for a while until one day a new station manager arrived. He luckily agreed to make the station child labour free.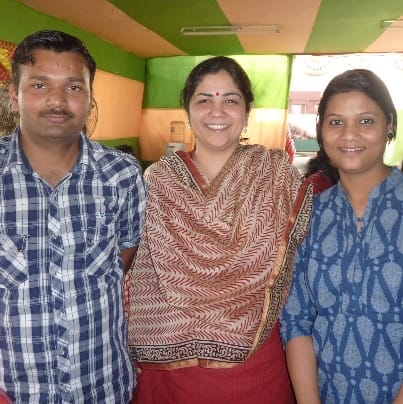 The final work was begun then. It was clearly declared to all the shopkeepers not to hire any of the kids. Most importantly, those who had already been hired were convinced to release. Some shopkeepers easily agreed by hearing everything about child labour and some had to be threatened. Shachi Singh was thus successful in sanitising the government railway police as well who today look after such children at the station. In fact, today, across 72 districts of UP has a kid-friendly booth for the lost children.
With Shachi Singh's constant efforts and love for the welfare of the unfortunate children, the Lucknow station is completely free from child labour. Moreover, a member of the National Commission for Protection of Child Rights, Yogesh Dubey, visited the station and was astonished and happy to see the outcome. He did not find a single child working on the station. Shachi Singh most importantly has not reached her destination with these kids as she has a long checklist to fulfil for the betterment of the underprivileged children.
This Professor Devoted Her Life to Educate the Underprivileged Children

Add to favorites