You are deprived of clean drinking water, ventilated households, and minimum nutrition in your daily diet. This Hypothetical situation for you is the truth of many people living in slums. A Significant part of the Indian population today survives a life like this. Imagine Wishing For Bare Minimum Necessities In Your Life; what would your life look like? What would you even wish for? How far would your dreams go?
Sitting in an Air-conditioned Cinema hall, watching The story of Murad Ahmed from 'Gully Boy' or a Jamal malik from 'Slumdog millionaire' is not enough for us to understand the plight of people living in slums. These two hours, when you were enjoying your leisure time, watching movies, these people were sitting helplessly in dark rooms, hoping for at least two hours of electricity supply.
Before understanding the plight and life in these slums, we should know the conditions that created these slums? And What is a slum?
History Of Slums In India.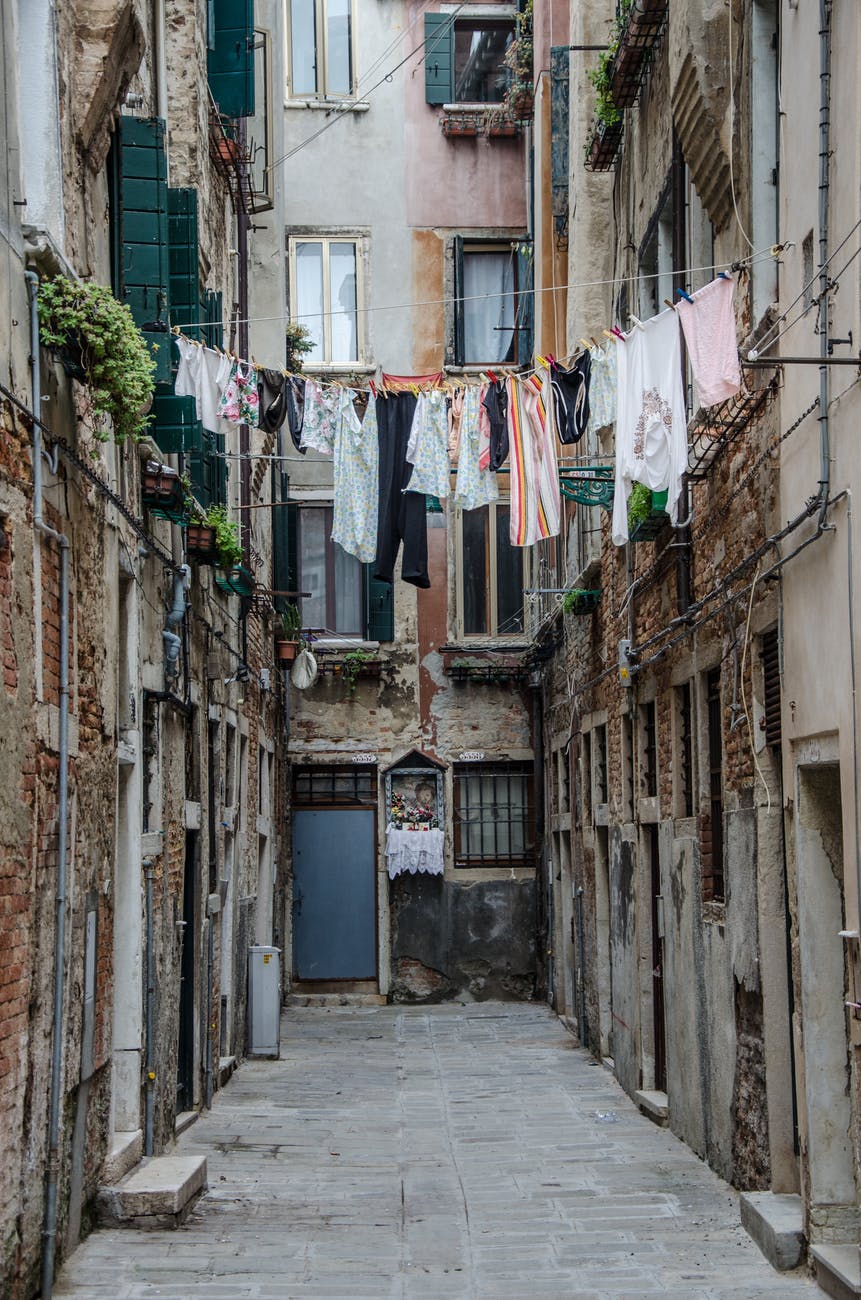 The concept of slums became a reality in India during the Nineteenth century when India was a colony of the British empire. Every person living in a slum doesn't belong to a slum. Ask the families living there why they migrated from their home town/ village to live in these congested spheres? One thing you would find standard in the story of every household there is Employment opportunity.
Have you ever wondered? Before India became a British colony, why were there no such big traces of slums? From 1858, when The British Crown assumed the paramountcy over India, many laws and regulations were passed in favor of British trades, ignoring the traditional industries of India. British and other East Indian companies from western countries started trading in India.
Trades of indigenous people started lapsing. Many small and marginal farmers lost their lands to tyrant laws and corrupt practices. Many trades which dealt in traditional goods like handicrafts were made obsolete enough to render the traders unemployed.
People started migrating from villages searching for employment opportunities to big cities like Mumbai, Delhi, Bangalore, etc. They would find employment in manual labor in industries working under British control. For them to reside, they needed space; as time passed, these spaces turned into slums known today as Dharavi of Mumbai, Saroj Nagar Slum of Nagpur, etc.
Traits Of Slum
According to United Nations, a slum is any geographical area that satisfies certain conditions listed below. Let's understand these situations, making the slum area a slum area.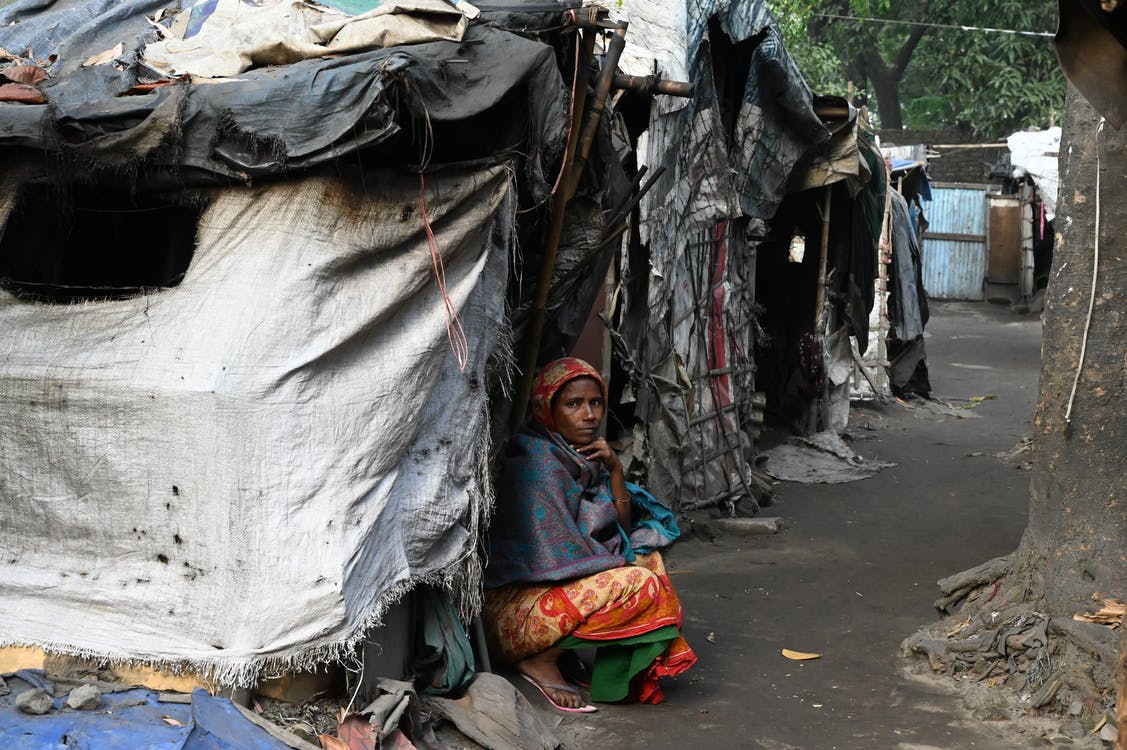 Access to Clean Drinking and safe water:
If you have ever visited a slum area, you will notice that often residents of slums are troubled by sewage water flowing into their houses. Slums are generally located near a sewage water treatment plant; sometimes, leakages from pipelines occur, resulting in these troublesome situations. Besides this, they are distraught by irregular drinking water supply in their localities. The crowd of women and children is seen every morning at local taps to fill their utensils with drinking water.
Sufficient Space for Living:
Under a small roof, in a single room house, more than 6 and 8 people live together. They sleep in one room, eat in the same and stay in the same. The majority of houses in slums are made of cardboard, thin tin sheets.
Sanitation:
Worst condition of sanitation you can imagine is in the slums of India; there are no separate washrooms and bathrooms for households. A public toilet is built at a distance from the slum area, where they can access the washroom facility by paying a certain amount.
Illiteracy:
There are primary schools available in slum areas, But due to high poverty, households opt for sending their children to earn money rather than sending them for education. This creates a high level of illiteracy and the lowest standard of living among households.
Crime:
While roaming the streets of these metro cities, you must be most alert. As there is a possibility that you may lose your precious holdings. The majority of crimes, like theft, burglary, and murders, arise from these isolated yet dense areas of metro cities.
Prone to diseases:
Due to improper drinking water facilities, poor sanitation, and insufficient nutrition in their diets, people living in slums are prone to diseases very quickly. There is a heavy chance of infectious diseases spreading like a fire in the forest.
Popular Slums Of India
Dharavi
While talking about slums, we all never forget the most popular name, Dharavi in Mumbai, Maharashtra. Briefing about the biggest slum in Asia, we should note that it is a land area of approximately 2.5 square kilometers, home to more than a million people. From these statistics, you can imagine the intensity of congestion in this area.
Small businesses operate inside Dharavi, dealing in leather, textiles, and pottery. If I state here, would you believe that the land where today Dharavi is located was a mangrove swamp earlier? It was founded in 1884 when the British industries emerged and created a labor demand? Which then led to inhabitation of the space by small, marginalized farmers who lost their lands or small traders who lost their trade.
Today many films like gully boy and slumdog millionaire are made, depicting the situation of Dharavi.
Bhalsawa Slum
The Capital city of India is not devoid of these slum areas. Bhalsawa slum in Delhi stays in the news for its worst sanitation facilities. Households remain flooded with sewage waters giving birth to various diseases in the locality. Lying behind the Jahangir puri garbage mountains, residents of Bhalsawa earn their livelihood through rag picking.
Saroj Nagar Slum
In the city of the sweet citrus fruit oranges, there lies a bitter truth for people living in Saroj Nagar slum in Nagpur. Saroj Nagar slum accounts for an area of approximately 1600 hectares which is home to more than forty percent of the residents of Nagpur. It is the second-largest slum in India after Dharavi.
Rajendra Nagar Slum
The city where beautiful gardens are situated, where unique species of floras can be seen. There lies an ugly scene in Rajendra Nagar's slum. Situated in Bangalore, City upholds the statement that there were attempts made to rehabilitate the residents of slums, and now there is no region to be called a slum in Bangalore.
Indiramma Nagar
The capital city of south Indias Telangana state holds a particular area where people don't even. Have access to basic amenities such as clean drinking water, sanitation, proper housing, etc. Known as Indiramma Nagar, it is among the famous slum areas of India.
Conclusion
Today in metropolitan cities, every sixth person lives in a slum area. That makes up around twenty-five to thirty percent of the population in slum areas.
In the census 2001, it was the first time slum demography was presented. Not only in India, but it was the first instance in the world's history that demographic data of slum areas were included and presented in the census. Then in 2001, there were 26 states/ union territories in India, among which there were only nine states/ union territories which did not consist of slum areas.
Central and state governments adopt various policies to rehabilitate these areas and provide them with at least basic amenities to live a life and not just survive it.
Want to Write for Beyond the Punchlines? Click Here
Get Your Own Article Published at Beyond the Punchline. Click Here

Add to favorites