The Best 7 Not So Known Brands That Bollywood Celebs Love
It's not every day that our celebrities don outfits that make us wish we were as rich as them. They dress like us on some days, wearing inexpensive clothing and accessorizing with stylish yet inexpensive items.
Everyone enjoys keeping up with their favorite celebrities' fashion, lifestyle, fitness, and other interests. Suppose we have to shop for an event or even a slightly momentous occasion. In that case, we choose to follow the brand of our favorite celebrity, even though it is relatively expensive and not everyone can afford it.
Did you know that many celebrities use many unpopular brands that are worth purchasing? Here's a list:
Youth adore Truffle Collection's fashionable and affordable footwear. Celebrities have come to this one-stop-shop. When it comes to footwear, celebrities have frequently picked the Truffle Collection.
The Bollywood Divas were quickly captivated by the budget-friendly yet fashionable brand. Actresses like Sonakshi Sinha and Parineeti Chopra have been seen in their unique collections wearing funky shoes, sneakers, classy heels, and other clothing items.
Following the example of our Diva, we discovered that whether you're looking for heels, platforms, or flats, the Truffle Collection has them all. Our celebrities have chosen it, their collection appears to be quite inventive.
Aachho is a new-age fashion label specializing in handcrafted, elegant ethnic wear that combines classic and new aesthetics. Aachho ethnic wear has been seen on B-town celebs, as it features a collection inspired by the royal country of Rajasthan for the modern Indian woman.
What we like best about this celebrity-endorsed label is how it effortlessly blends the newest trends with everyday stylishness. Beautiful graphic print in vivid colors appeals to people of all ages and tastes. These top-notch traditional looks with a tinge of western tone made beautiful statements about the actresses.
While we adore the fuss-free ghagras in pink and purple, we are particularly fond of the tie-and-dye combinations. The label ensembles are known for their modest elegance and simplicity. Aachho's breathable kurta sets and breezy kaftans are available exclusively at the B-Town Divas.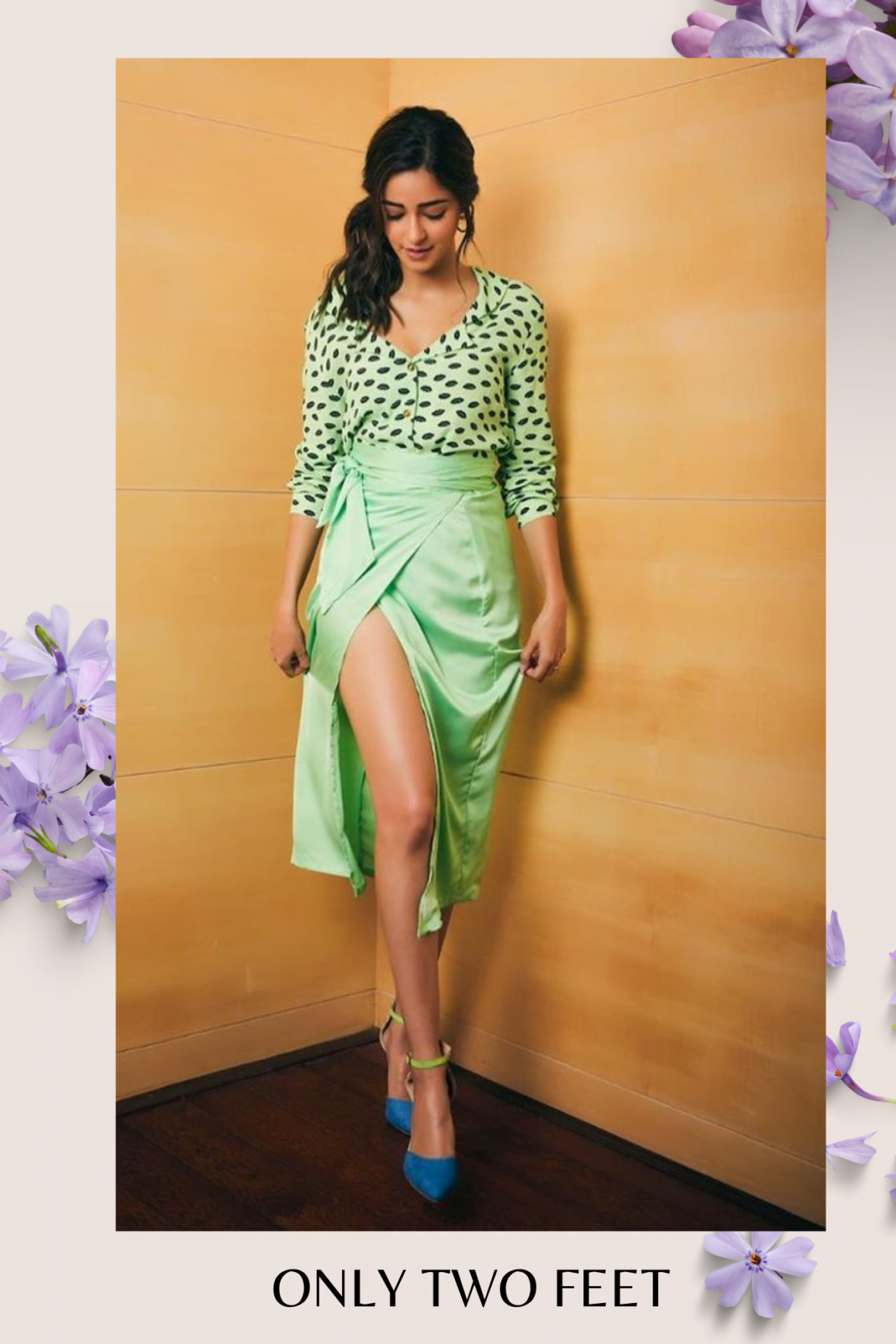 Only Two Feet is one of India's most successful footwear brands. This brand was launched in 2017, and celebrities have been gushing about it ever since! This footwear company offers a wide choice of attractive and comfy shoes, slippers, flip-flops, and sandals for women and men at an affordable price.
Only Two Feet guaranteed an exceptional range of handcrafted shoes made of the best materials and finished to perfection. An appealing collection that will make any shoe enthusiast go 'Oh Wow!' and that is why, after many well-known brands, the 'Only Two Feet' has caught the attention of celebrities.
The range of Only Two Feet footwear is designed as per the latest fashion and trends, utilizing high-quality materials, thus making it one of the favorite footwear companies in India.
As you can see in the above photo, Ananya Pandey manages to slay budget-friendly brands as effortlessly as she slays high-end luxury labels. Only Two Feet is famed for its traditional Indian footwear, and if you're seeking affordable celebrity-approved footwear, check them out now!
Except for their big-budget films, what do Priyanka Chopra, Sonam Kapoor Ahuja, Deepika Padukone, and Kangana Ranaut have in common? They've all recently been seen wearing pieces from Viange Vintage, one of India's best-known vintage designer jewelry stores.
The Viange store is India's first of its class. The store also has a great variety of vintage Chanel earrings, with pieces from designers such as Balenciaga, Dior, Burberry, Celine, and Valentino. However, the swish set of fusionists has been paying close attention to their current collection of earrings.
The brand is working on a vintage-inspired fine jewelry range. Ahuja, Kajol, Deepika Padukone, Sonam Kapoor, and Kiara Advani are among the store's regular customers. Scroll down to view the most recent purchases made by celebrities.
Among their favorite finds are gold-toned chunky earrings from the early 1980s. Students with a vibrant pink stone studded with a rough gold edge and stand-out white enamel are featured.
Viange's Small Imperfections and Antique collection instantly capture Bollywood divas' attention, and it deserves to!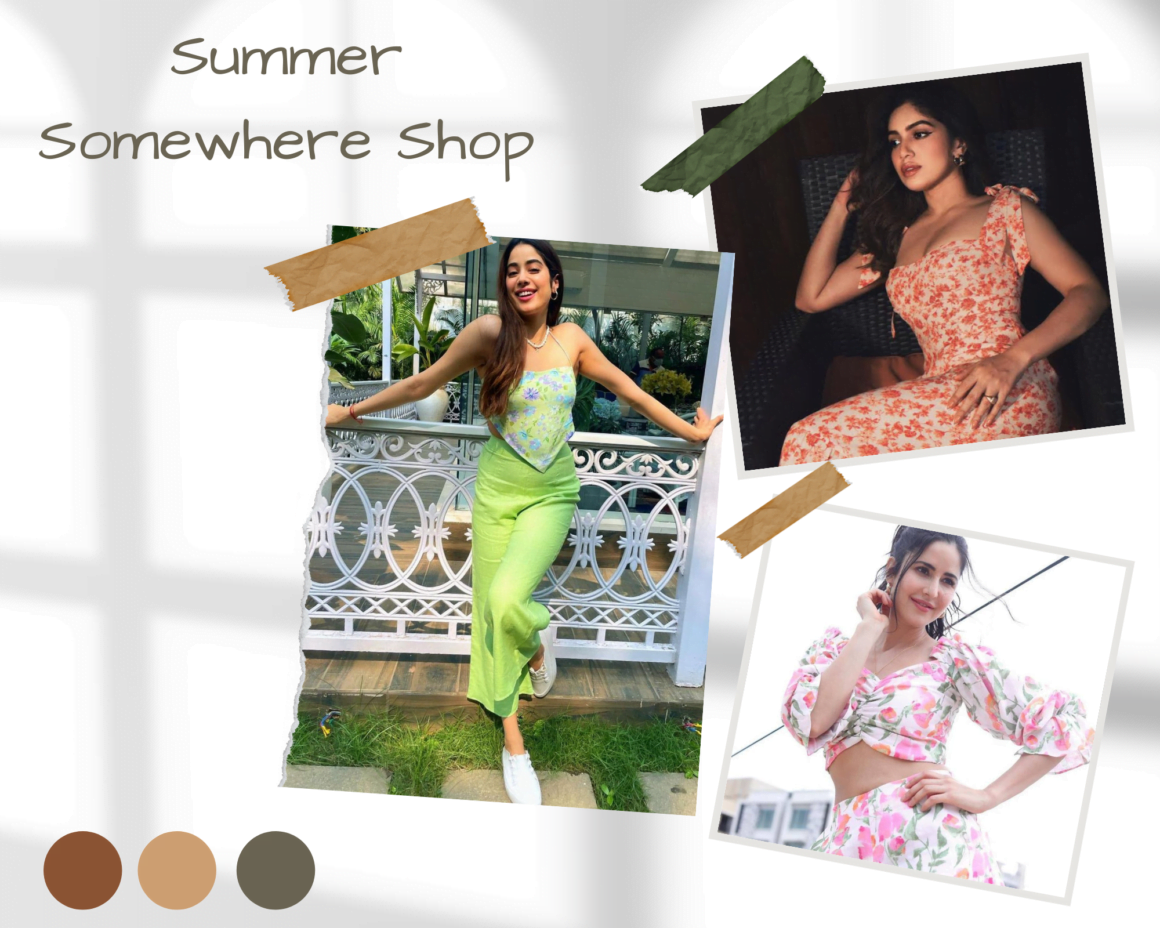 Light, uncomplicated lines, colorful florals, and timeless vacation clothes are the focus of Summer Somewhere Shop. It's popular with Alia Bhatt and many other Bollywood stars that connect with the brand's values of sustainability and durability.
Bollywood's celebs prefer this label because its materials are 100 percent biodegradable and hence environment friendly, and its manufacturing technique uses 50 percent less water to foster an environment-friendly lifestyle.
When it comes to summer attire or beachwear, many celebrities' first pick is summer Somewhere Shop. A wide range of Bollywood's most delicate beauties, including Alia Bhatt, Katrina Kaif, Janhvi Kapoor, Bhumi Pednekar, and others, have already been seen wearing these masterpieces, and we're excited to see who will be the next to do so!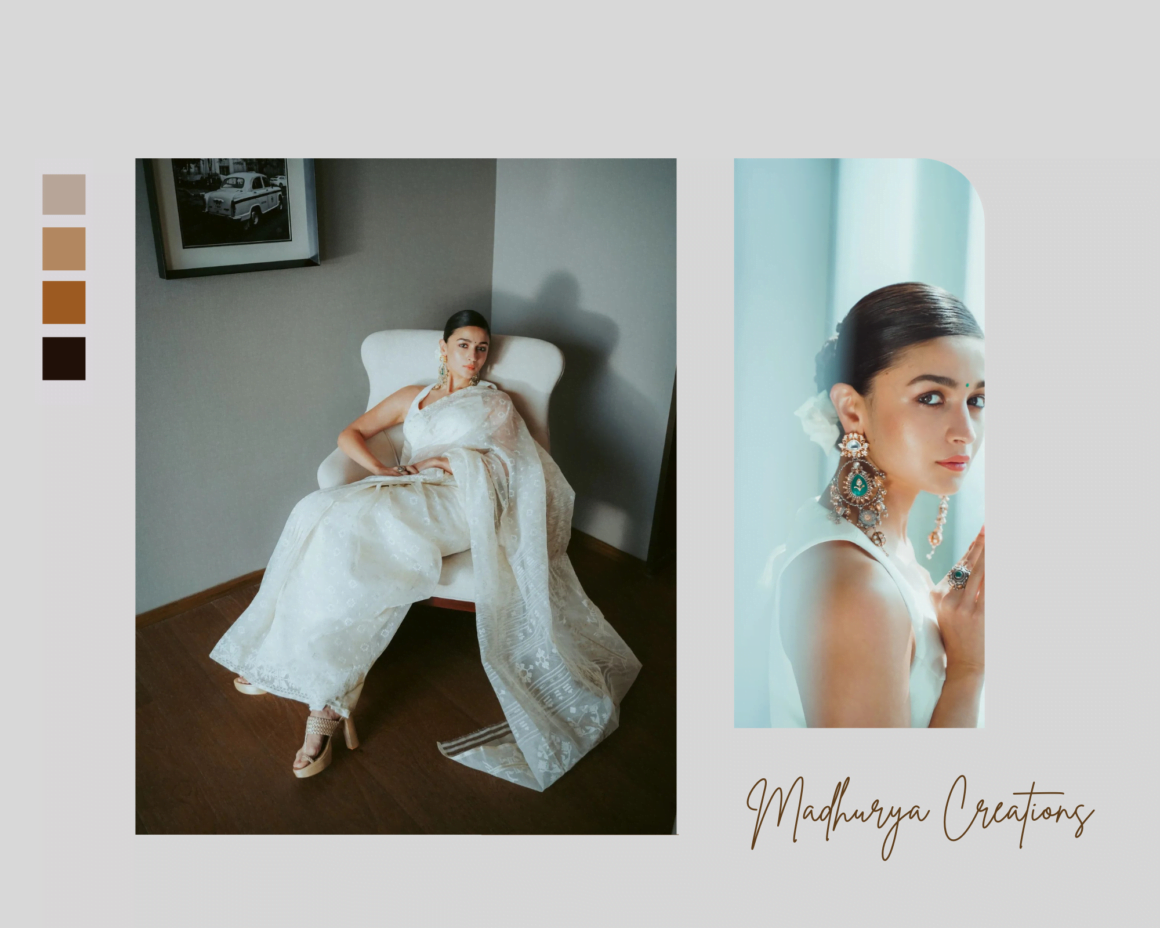 Alia's clothing selections were inspiring, ranging from basic flower designs to traditional handloom sarees in white. She was dressed in a pure white Madhurya Creations Jamdani weave with distinctive hand-woven embellishments for one of her promotional events. Alia addressed a point about white sarees, stating that one can never have too many of them.
Alia wore a custom-made gown by Madhurya Creations, a Bangalore-based designer textile company with which many other Bollywood stars, including Priyanka Chopra, Madhuri Dixit, Kangana Ranaut, Samantha Akkineni, and Kajal Aggarwal, have collaborated.
Madhurya is an ethnic clothing line with gorgeous designer sarees, jewelry, and handcrafted greeting cards. This label stands out because it is always looking for new and unique ways to improve. Floral sarees, a wedding collection lookbook, Specialties of certain regions, sarees, and more are among the types readily available.
Traditional silk and cotton weaving are crucial in the recovery process. Celebrities select Madhurya Creations because it was founded by enthusiasts of the Art of Living to conserve India's fading traditional arts and crafts. It collaborates with traditional weavers to help them keep their skills alive.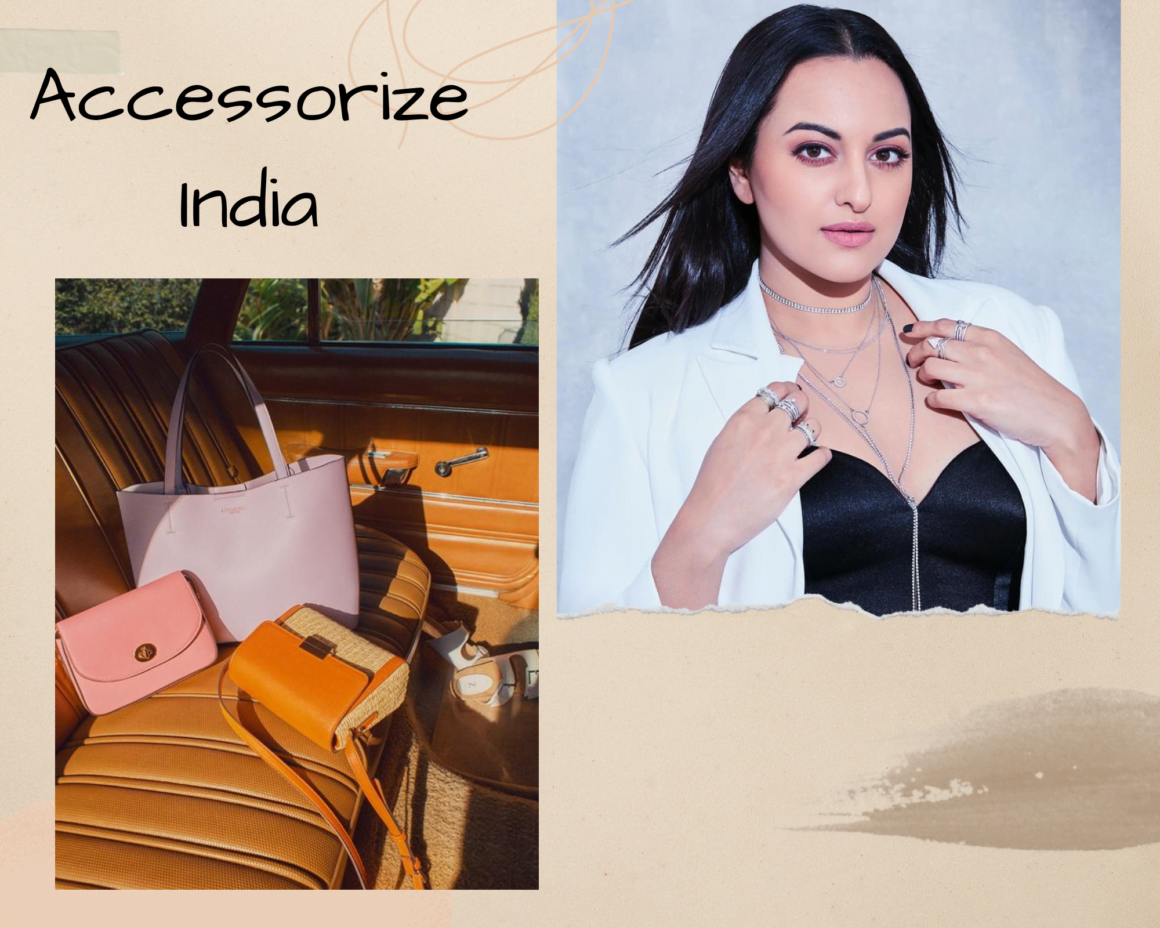 Although clothes make up most of your look, accessories bring it all together. Accessories are vital in our lives since they enhance our personalities, styles, and beauty. If you want to seem stylish, match your clothing with current-season accessories.
Each of us has a favorite accessory that reflects our style. Your favorite celebrities also wear them. Because of its elegant and minimalist designs, Accessorize India has become a trusted brand among jewelry admirers.
It's no secret that Peecee is on the way to world dominance. But she isn't traveling alone; she has her shades with her! She enjoys taking selfies in the Los Angeles sun with a new pair of sunglasses now and then.
Malaika Arora, like Priyanka, wore a layered necklace and a white cotton dress by Accessorize India. In contrast, Sonakshi Sinha and Neha Dhupia wore beautiful, glazed, and chic circular earrings by this Indian fantastic line!

Add to favorites