Our country, India, has been in a love-hate relationship with cannabis for a long time. Though the marijuana plant has immense medicinal value, its place in society is an incomprehensive taboo. And India's first Hemp Cafe, Off Limits, is trying to bring this plant on the plate in old-school style.
This cafe breaks the stigma towards this medicinally rich plant in a society with conflicting social attitudes and legal barriers to cement it.
The history of the plant is deep-rooted in our books and ancient sculptures of ours. The ayurvedic text speaks boldly of its use. At festivals like Holi Bhang is legally sold in several parts of our country. And it is not restricted to its raw form. It is sold in the form of shakes, cakes, cookies, etc.
The beautiful cafe, Off Limits, is beautifully nestled in the hills of Kasol next to the stunning Parvati valley. The cafe offers more than just hemp-infused food. It offers quality, health benefits, view, peace, and more. It is a go-to place in Kasol for superfoods sitting amongst the woods that would break your mental monotony giving the havoc a break.
Know About This Hemp Cafe
The owners of the café, Omair Alam and Mayank Gupta, have also arranged for a person who helps people understand the benefits of hemp-infused food. They educate their customers towards understanding how the plant can be a rich source of protein, minerals, and vitamins. It makes people aware of facts about the rich uses and in what quantity it is okay to add it to the staple diet. The government from its development facility and cannabis research has sanctioned a certain amount of hemp for use in diet. So, the owners ensure to obtain hemp from licensed growers in Uttarakhand and Delhi, India.
Location Of Hemp Cafe
The beauty of this café is the literal meaning of living a high life but in a healthy way. This is just the place for you if you are an ardent reader, sit by the Parvati River and enjoy the yummy hemp-infused coffee while you soak in the book. Life is good while the river flows and gushes a sense of tranquility through the mellifluous sounds of the waves crashing at the backdrop.
The owners started the café as a simple coffee place initially. They gradually introduced the hemp-infused food after it became legal in the country. Apart from the set menu of hemp mixed food, there is nothing else on offer in the café. However, some people travel thinking that they would get other substances there, but it is a big no. It was clear from the beginning that the request for 'Maal' has no place in this little beautiful café. It was never the idea on the plate. No matter how much people assume that it may be accessed here, it is not. The idea is to ensure people understand its uses and benefits, not misuse it. The cafe was named with the same logic as well. It was kept in mind and consciously called Off Limits because our society is not open to conversations around this subject. It is a small step on the ladder that moves towards unshackling the taboo of hemp being used only to get high.
The use of hemp has always been considered fragile due to its status as a drug. However, the regulation of its legal use has been passed last year by FSSAI. At present, hemp oil, its seeds, and flour have been approved for use and sale as an ingredient. This came as good news for the market and the brands that have been yearning to use hemp oil in their products for its health benefits in anti-anxiety and anti-inflammation.
What Makes This Hemp Café Unique?
Off Limits is not just a café serving delectable hemp-infused food, it also is a hotel that offers accommodation for people traveling with family, friends, or solo. It is a beautiful property that offers a vacation space amidst the Kasol valley. It is the perfect blend of delicious food and stays under one roof. It gives meaning to getting high, literally. There is no more a need to travel to international destinations like Austria for weed cafes or Thailand for marijuana pizza, now it is all here.
The travel is economical, the location is beautiful, and the food is good. It is perfect!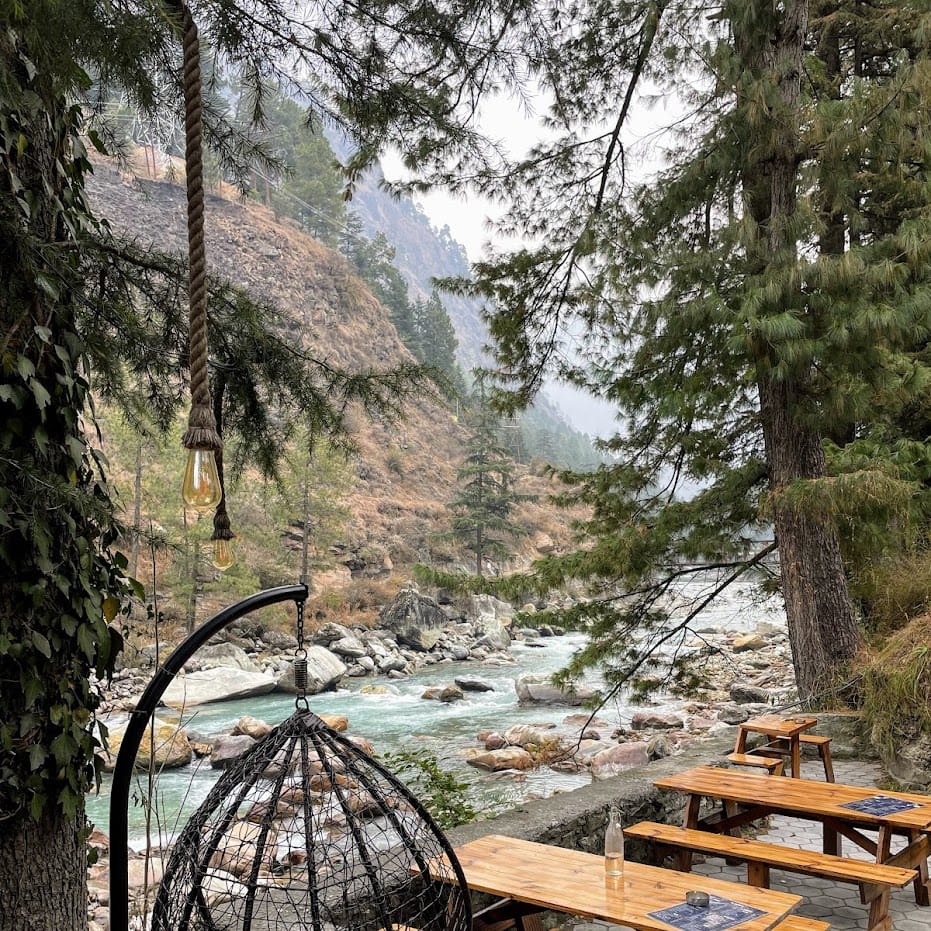 The beautiful town of Kasol is harmonic with grueling treks and picturesque beauty, but it also has a shush-down image of being the travel choice for getting cannabis. From the time of Vedas, the plant has existed for several reasons of benefits and controversy. Contrary to popular opinion, the food does not give you a high. People mostly feel the placebo effect and end up feeling high.
There is no need to fret over thoughts like whether it is a family-friendly space or not? It is a safe place for your travel. So, no matter where you are, bookmark this place for your next getaway and sip your hemp-infused coffee with a palatable hemp drizzle pizza.
Read Next: Advice From A Woman; Tips For Solo Female Travelers In India

Add to favorites