"You don't build a business, you build people, then people build the business." -Zig Ziglar
This quote matches the story of 'Talam' perfectly because the journey of Harshita Atre, Vaikhari Kulkarni, and Shreya Daflapurkar is the same.
Based in Maharashtra, these three have come together with the desire to create something new, creative, and primarily on their own. And is there anything better than an Indian saree brand?
A dancer and choreographer by profession, Harshita Atre is one of the founders of Talam. Currently, she is working as a costume assistant director for films. She loves sarees because she feels with each saree there's an emotion and a story, and that was her calling behind starting, Talam. She conceptualizes and executes the shoots of Talam.
Vaikhari Kulkarni is a digital marketer and one of the partners of Talam. She works as Digital Media Marketer for Be Birbal Digital Media Pvt. Ltd., an agency based in Pune, and has been working in this field for more than 5 years. She was a part of Talam since its inception as an investor and turned into a partner, as she always wanted to build something of her own. She handles the marketing, management, and all back-end process at Talam.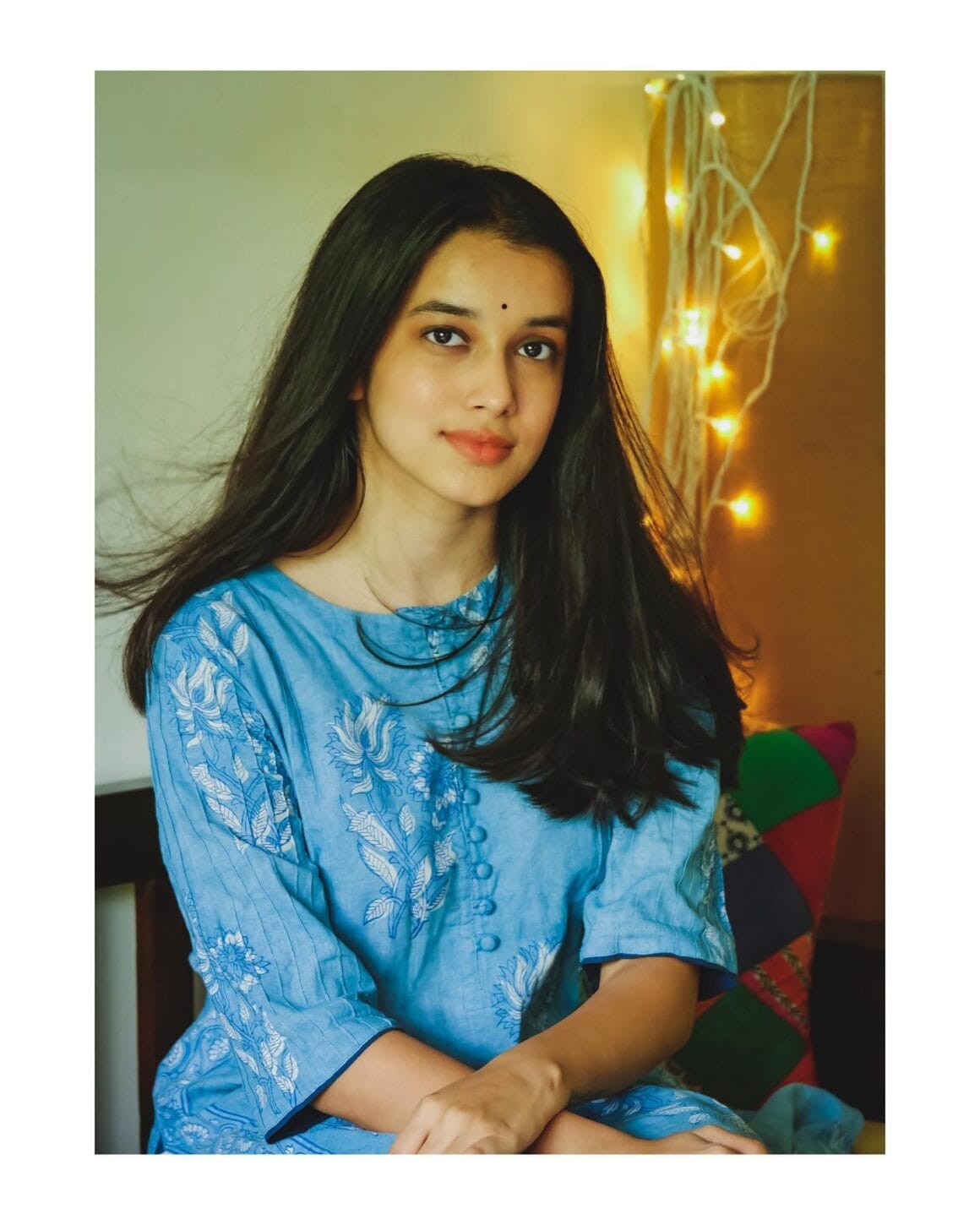 Shreya Daflapurkar is one of the co-founders of Talam. She has been inclined toward sarees, Indian fabrics, and prints since childhood, and that played a major part in her vision for Talam.
The designing and fabric choosing processes are mostly on her because she has a background in fashion designing, and they experiment with fabrics and colours to make their creations. It's a whole process wherein they try samples to check color combinations, embroideries, prints, etc.
Team Talam tries to present what they think is aesthetic and tries to connect to their customer base through that. "Talam is not just a brand; it's an emotional connection with people".
The products are personalized to fit the customer's needs and preferences.
The Marathi word 'Talam' means fine and soft. The word is usually used to explain the fabric which is finely made, delicate, and has a feather touch. The label has a mandala art logo, which was chosen because it represents the roots of their culture.
In terms of branding, all three were always looking for something that felt true to their roots, and thus, both brands, Talam clothing, and Talam accessories, have mandala art logos.
When asked why they picked sarees over other products such as western or other, they all stated that they have had a special relationship with sarees for a long time and that sarees never go out of style, be it in the 1980s or now. Just as a saree passes from a grandmother to a mother, a saree comes from a mother to us, bringing with it a variety of feelings. Sarees never go out of trend, and women prefer them over any other product.
Harshita and Shreya had always wanted to start something like this, such as a clothing label or something similar, but they had no idea until they met, and that's how it all began. Shreya had never wanted to hold a job, so they began their own business together.
'Talam' is unlike any other brand since it gives each customer a personalized touch. When a lady wears it, it gives her a more homely, culturally-based vibe. "They don't simply sell sarees; they sell an experience", said Harshita.
All three of them think about their customers a lot and attempt to put themselves in their shoes to see how the design, fabric, and color will work for them, which keeps them linked to people!
They manage to handle it all, even after having a personal career, and, as a result, they juggle with time.
When asked about their success over the last year and a half, they stated that success is more about customers coming in and telling us how they found their products, or repeat customers, growing the brand with customer addiction as a family, or every person who orders in bulk, as they believe success is a very subjective concept.
There is no such crew in the background, and these three handle the entire operation. Vaikhari, one of their business partners, was also an investor.
Vaikhari is in charge of the technical aspects, while Harshita and Shreya are in charge of the creative ones.
Their first customers consisted mostly of Pune residents. After receiving a positive response, they expanded their consumer base to the entire state of Maharashtra, then to India and beyond. All of this has been accomplished solely through the use of social media.
Shreya Daflapurkar, a fashion designer and stylist, is primarily responsible for the design components, including colors, fabric, designs, threads, seasonal suitability, and more. Vaikhari, on the other hand, is in charge of all social media and marketing, and back-end duties and Harshita manages all the shoots and visual representations.
When asked about their responsibilities as female entrepreneurs, they said it's difficult. Their guesses are occasionally incorrect as well. Things they believe will work don't always work, and vice versa.
Talam's sarees appear to be unusual, one-of-a-kind, and appealing. When asked why this is the case and what motivates them to manufacture it, they explained that India is a melting pot of cultures, each with its own unique beauty and flavor.
Each culture demonstrates something fresh and unique, which inspires them to create numerous sorts of sarees with a hint of each culture. Still, their native Maharashtra culture fascinates them the most because it has so many things to discover, and they find something new every time.
Their collections have various names, such as Taha, Chap, and Aamri. Every saree set has a name that indicates the significance behind the concept, such as 'Tara' in Marathi, which symbolizes a star that may be seen minimally in the saree if looked carefully. The same can be said for 'Rajat,' which signifies silver and is featured in the saree line.
All of this is handled together by the three of them, and they have no preference for celebrity endorsement, influencer marketing, or e-commerce. Being in the entertainment industry, their friends, family, and many celebrity friends have always stepped forward to support them. They are grateful to all of them because running a business is not easy, and all of them help in keeping it going.
All of the marketing is done entirely on Instagram, with Facebook following closely behind.
The best aspect of 'Talam' is the relationship that exists between the owners and the clients. They make sure that every query is answered by the team, and the talks can often last for hours, exactly like a family conversation. This helps the team maintain a connection with their audience.
Team Talam plans to expand its menswear collection in the near future. They just launched men's 'Lungi' and 'Scarves,' and have received a fantastic response. Soon, they'll start working on attractive accessories like jewelry, silver, Kundan jewelry, Bridal and American jewelry, and more.

Add to favorites