Trick or Treat Foods: Healthy Snacks Of India!
The couple is a big-time foodie and always has had a nag for healthy snacks. A lot of their time would get invested in finding the best brands and healthy instant food and snacks. However, they never found satisfaction. The husband, Shrey Arora also had a mind for a food start-up. One day the couple made a trip to Urvashi Srivastava's (wife) ancestral home in Lucknow.
Urvashi's nani loved making tasty snacks at home and Shrey thus got to taste tangy aam papad, imli, candies, and munchies. He loved this stuff and since already had a mind for a food start-up, he now knew what to do next. The couple had a discussion and decided to sell their nani's snacks and thus start the business. Moreover, the market sincerely needed healthy snacks which the couple decided to fulfil.
The next step: opening of 'Trick or Treat Foods'
Shrey founded Trick or Treat Foods with his wife who is the co-founder of this company. The company works intending to provide healthy snacks, especially to kids. The tagline goes 'No Tricks, Only Tasty Treats' which stands true as the company provides snacks free of chemicals and without refined sugar, preservatives, sulphites, colours, or artificial flavours.
Most importantly, the venture uses lemon juice as preservation in candy roll-ups to increase the shelf life. Thus, the product gets up to 7 months of shelf life. One of the snacks is a fruit roll-up which is available in six flavours namely mango, pineapple, kacha aam, pink guava, strawberry, and imli. Besides these tasty snacks, the company has also brought energy bars such as coco whose main ingredient is chana sattu.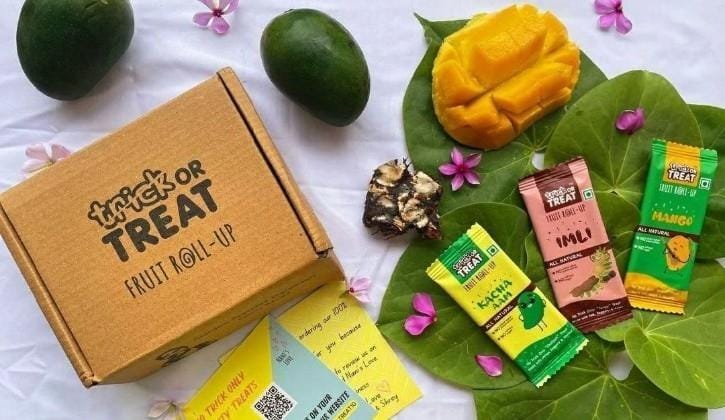 What is special about 'Trick or Treat Foods'
It was set up in 2022 and has been receiving good responses from customers. What makes the venture special is the fact that it has sustained Urvashi's nani's traditional recipes.
In an interview, Urvashi mentioned that her nani is the rock of their business. And, she was so happy when she heard about starting a company selling her snacks. Even though, a few small changes were required for improving certain things. For example, the snacks could not survive at room temperature. Hence, the couple modifies the recipes without changing them with the help of a food consultant.
Moreover, the company uses the fruits used in making the snacks to be directly sourced from farmers in South India. Above all, only the best quality fruits get the pass to sustain quality and consistency. Furthermore, the frozen pulp of these fruits is stored at an 18-degree temperature which is then used in making the candies.
The Best Products Of The Company
You can find tasty products on the company's website, Amazon, Indiamart, and social media pages. They are moreover also available in retail stores of cities such as Bengaluru, Mumbai, and Delhi. The best seller award goes to their protein bars. However, mango and strawberry flavours are the favourites of their customers.
The company furthermore has recently launched six new products. These are coconut crush coco bars, fruit and nut coco bars, coco chip brownie coco bars, coffee tiramisu coco bars, honey trail mix coco bars, and crunchy peanut coco bars. If you are also one of those who are into healthy snacks, you can give their products a go. Check out their website trickortreatfoods.com
Mental Health Is As Important As Physical Health: Here's Why

Add to favorites