It's that time of the year when we are surrounded by everything pretty. Yes, we are talking about rainbow hues, ritzy-glitzy outfits, and love all around. So, that's when we decided to celebrate pride month with India's first trans model, Naaz Joshi. We live in a world where we are constantly struggling to come up with innovations every day, but at the same time, we also struggle to keep homophobic and transphobic people at bay. However, we also believe in shutting the orthodox mentality and breaking the stereotypes, and this time we decided to do it with Naaz. She is a mother, a daughter, a model, and a woman full of ambitions who'll take you through her journey of ups and downs.
So, are you super intrigued to know about her life's roller-coaster ride to become the successful woman she is today? Well, say no more and keep scrolling because her empowering moments and heart-melting words will fill you up with hope.
How about we start from the beginning? Tell us about your childhood and life before becoming India's first international trans model.
I was born as a boy on December 31st, 1984, and my parents were extremely happy as I was their first boy child. However, when I started growing up, I was inclined toward femininity, but my parents were fine as they believed that it's a part of growth for every child. Moving ahead, my relatives started hoping that I wasn't a transgender (back in time, the term for transgender was kinnar which had a disrespectful meaning attached to it).
Not only this, but I also struggled with my grandmother, who was very cruel to me because of my feminine traits. At the age of seven, my grandmother threatened my parents to send me away, or she'll commit suicide. So, under pressure, they contacted my cousin in Mumbai. I was told that I was going to Mumbai for a vacation, but soon, it turned out that I was being sent there permanently.
What was the place like?
When I reached my cousin's place, I found it was more like a "chawl"/slum living arrangement with seven to eight kids. Soon after moving there, I was told to earn for my education expenses, and that was a major shock for me as I was just seven years old. So, I started working for food stalls in the morning, and after completing my hours in school, I would also help my relatives (i.e. maami) with household chores.
Did you face any issues with your relatives?
Due to all the challenging circumstances, I became very introverted and depressed. Kids at school used to bully me a lot. So, one day, when there was a party at my relatives' place, I was constantly pressured to consume alcohol even though I was just 11 years old. They knew that I struggled to speak up and I was a depressed kid. The reason why they wanted me to drink was because they expected me to act masculine. Even though they never taunted me much, they always told me to be more masculine.
Anyway, they offered me a soft drink, and the next thing I know is that I woke up in a hospital. My uncle and cousin said I met with an accident, but I am pretty sure they infused alcohol into my drink. They promised they'd pick me up after two days when I get discharged, but that day never came. So, when I was discharged from the hospital, I had no money, and back then, we didn't even have a landline. But thankfully, there was a trans woman admitted right next to me who offered me the option to stay with her. She told me about her community, and I was really intrigued.
When I moved in with her, she gave me the comfort of home, loved me like her own daughter, and even got me Indian ethnic clothes like suit and salwar. The other trans women living there were also extremely helpful, warm, and loving.
So, did you start earning with their help?
Yes, I did. They all helped me learn how to clap, ask for blessings and money in good red light areas. But on this journey, I also got hurt because people used to make disgusting faces at me or turn up their cars' windows which felt very disrespectful. That's when I asked my guru to get me a better and more respectable job. So, she suggested I work in a dance bar in our area as I was also a good dancer. I had options to stay with my guru as well as at the dance bar. However, I decided to stay at the dance bar itself.
Were there any other trans women as well?
Many trans women were working there, but I was the only boy who used to dress up and work as a girl. I was very excited to have a glamorous life where I got to dress-up like a girl and try on new makeup products. A lot of money also started coming in.
To be more glamorous, for longer hair and a more feminine look, my trans sisters suggested I involve myself in sex work from where I could get the money to bear these expenses, and I am glad that it did help me a lot.
So, when was your first sexual contact?
At the age of thirteen, I witnessed my first sex, and that's when I realized something like this had already happened to me two years ago when I was at my uncle's place in Mumbai. I never realized in those years that I was sexually abused until I had my first consensual sexual contact.
I had no regrets about my work because I was doing it for myself, consensually, and for a brighter future. With the help of this money, I got my first mobile phone in 1999.
How were you handling your education?
So, I kept dancing, and I kept studying as well. Moving ahead, I opted for science in class 11th because I always wanted to be an architect, and the idea of being a fashion model never even crossed my mind.
So, how did you turn up for NIFT?
After turning 18, I made an account on Orkut to connect with my friends. There I found one of my cousins with a picture of my childhood. We met at Bandra, and soon she asked me to live with her.
Since I couldn't score enough to pursue architecture, my cousin motivated me to work on an evening gown. After which she loved and suggested I chase fashion designing. Later, I cracked the NIFT Mumbai exams, which offered me the opportunity to study in NIFT Delhi. This was my first stepping stone in the fashion world. My cousin filled the forms and fee for three years course.
Any highlights from your grad days?
When I moved to Delhi, I became friends with many people who introduced me to the LGBTQIA community. They would take me to their parties, and that was the first time I was engaging with the LGBT community in such a glamorous way. The best part of going to these high-end parties was that I got more confident and focused on my studies.
I got the award of the most creative designer in NIFT and received a check of three thousand rupees. Moving ahead, I was placed to work under Ritu Kumar, and this was an achievement for me because I have always admired her work and designs; after all, she was my dream designer.
How did the first job and taste of independence go for you?
My salary at that time was twenty-five thousand; I rented a flat in Delhi and decorated it myself, which was quite empowering for me. Be it a TV or furniture, I got everything by myself and was proud of myself.
That's great; however, did you ever face any issues in this job?
I worked there for two years, but the biggest issue was people still mocking me for my femininity. Then I started working for Ritu Beri, and there I had valuable exposure too, but I was somehow still struggling with gender discrimination from other workers. They teased me by saying, "first, we had to listen to women and now we are also supposed to listen to transgenders."
How did your journey to transforming start?
So, in 2010 when I was really depressed because of all the teasing and discrimination, one of my trans friends suggested I go for sex reassignment surgery. However, at that time, I was also suffering from depression and on anti-depressants. After some time, the doctors approved hormonal replacement therapy, but that cost ten to twelve thousand every month.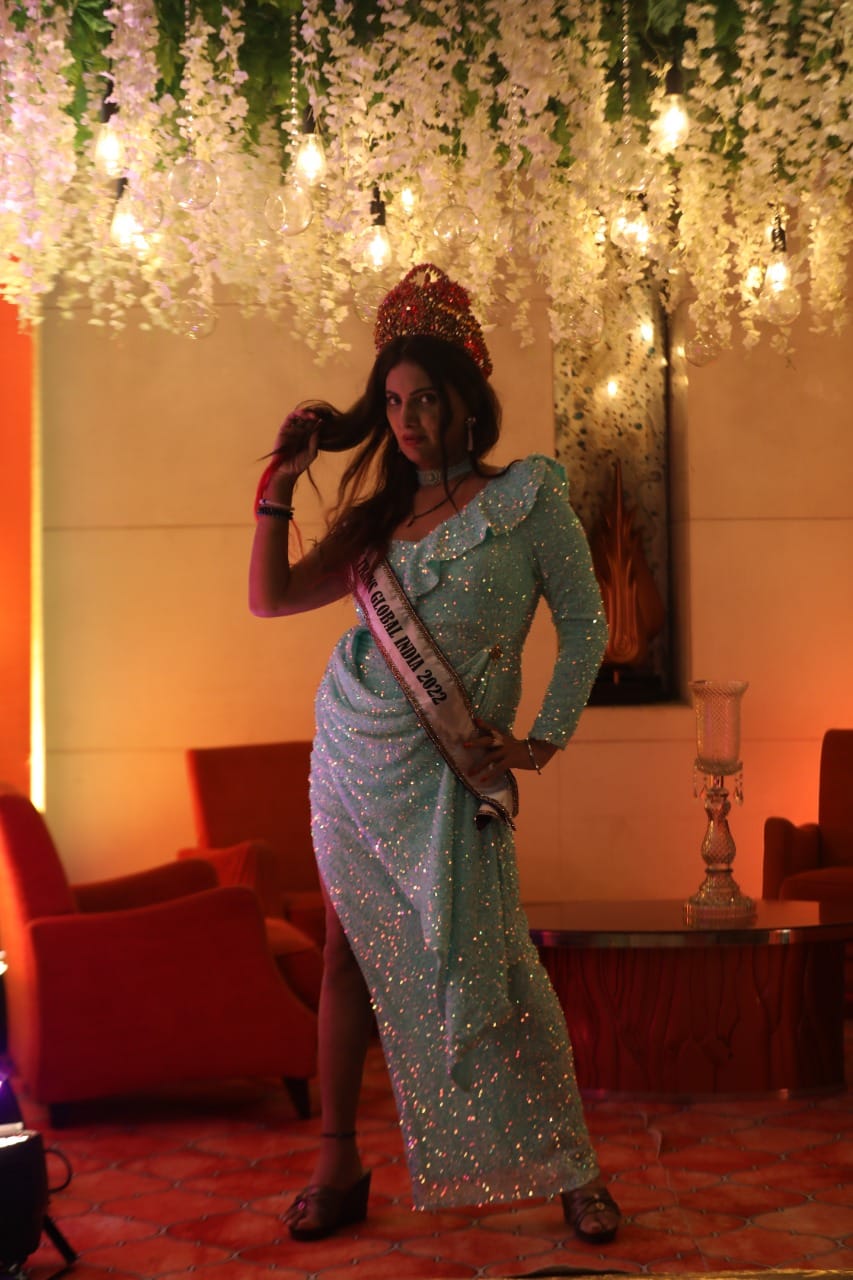 To meet the expenses, my trans friend told me about a gay parlour in Lajpat Nagar, and I landed there soon after knowing about it. I was expecting it to be the same as the dance bar in Mumbai, but then I came across some sick-minded people in Delhi. They were sadists and owned my body like it was theirs, which was a scary experience for me. Be it burning someone with cigarettes or whip hunter.
Did you ever try reaching out to the police?
Yes, of course, I did, and there were no actions taken; instead, I was mocked for being a trans woman into prostitution. We didn't have any laws to protect the trans community back then.
Can you tell me a little bit about the barrier-breaking work with Rishi?
So, in 2012 I met Rishi Taneja, who was a talented photographer, and he then decided to make a documentary on me to show the daily struggles of a trans woman to the world. In this process, I participated in bold and stereotype-breaking shoots, and I was being paid fifteen hundred for every shoot of two to three hours.
I remember when I posed on a road divider in a sheer saree. Of course, it was a scary experience, but I wanted to do it, not for myself but for all the trans girls and women who needed that dose of encouragement. After this, when I had enough money, I got my sex reassignment surgery in 2013, and I left sex work.
Moving ahead, pictures taken by Rishi were then showcased in a photo exhibition in Milan, and there the editor of Tehelka magazine was also present.
In 2015, I was featured on the cover of Tehelka magazine, which was the turning point in my life. Back then, there was no trans model in our country, and then I became the first trans cover model.
After your first step towards success of being a trans model, did your parents ever reach out to you?
So, my father saw the cover story and called to meet me. Being her kid, I couldn't resist and went back home to meet him. I wore an oversized t-shirt, sports bra, and jeans to hide my femininity. However, my dad showed support and acknowledged that I am a trans woman.
I told him I wanted to be what I am today because my heart asked me to.
However, my mother wasn't very supportive of it. She started shooting harsh words at me and physically abused me as well.
How did your journey as an international trans model begin?
After multiple shoots, modeling shows, and the journey of being a motivational speaker, I got a call from Miss United Nations in 2016. Soon, I won the title, and then I went to Singapore for Miss Republic International; there, also I won the subtitles.
In 2017, I also earned the title of Miss World Diversity which was a proud moment. I continued to win the title in 2018 as well as 2019. By the third year, my name made headlines as a three-time winner of Miss World Diversity. Even though I won many beauty pageants, I also won Miss Trans Global 2022; people still celebrate my achievement as Miss World Diversity because it was one of the biggest titles that I have won.
What is your current life status?
I am currently living with my mom, my dad is no more, and I also adopted a girl in 2018 but under the name of my parents due to legal requirements.
One of the reasons why I am here is because of my daughter because I want her to get the family's love that I didn't get as a child.
Alright! So, as you know Supreme Court recently legalized sex work as a profession. Do you think that will bring any change to the mentality of people?
See, I believe it won't change the mentality of people that we are surrounded by. Most people in India still don't see prostitution as a profession like doctors, engineers, etc. Even today, people think of GB road when they talk about prostitution; for them prostitution means a place in Kolkata. However, I also feel this move will help speed up the process of respecting sex work. It will also help sex workers as they won't be living in fear of getting arrested.
What was the turning point in your life that helped you come out as a trans woman?
As a trans woman, I never had to come out publicly because it was always visible. But I did embrace my femininity and turned it into my strength.
I did get a lot of respect from people; there are days when people even call me "Maa." However, there are days when I still struggle to let people know my pronouns. I have to explain that I am a woman. There have been instances where I was forced to take off my clothes to prove my gender. I believe even in today's world Draupadi hasn't died.
What would that be if you were given a chance to introduce a law for more equality?
We have a law for gender discrimination, but the system doesn't take our issues seriously. So, I believe that police needs to be more educated about the trans community and what we go through. Even though we have a trans protection law, I would personally want to spread more awareness about the same.
As we all know, 14-year-old Naaz went through a lot. Is there something you want to say to any other young Naaz out there?
Be it a girl, a boy, or a trans; I want to tell everyone that I have a positive approach to life. There will be people who will bully you, pull you down, and be jealous of you. You can choose to fight all of them with positivity, courage, and hope. You don't have to be scared of anybody, be it your friends, family, or the society we live in.
Just take pride in who you are and that's what Pride month is all about.
Can you also tell our reader how treatment differs in male and female models?
A lot! In modeling, women are actually paid much higher than men, so there's a pay scale difference.
When I started modeling, I was paid well, and I am even today. But I have also seen young trans models who settle for no payment shows or pay to be in the show. So, I would suggest you don't settle for anything less than what you deserve because this way, you're also blocking the way for other aspiring models.
What's the most misunderstood thing or myth about transgenders you have come across?
People believe that a boy turns himself into a girl just to enjoy sex, and that's what a transgender person is. However, that's far away from reality and logistics. People also say that our community is a trend we picked from the USA. Well, no, transgenders have been here since the beginning of time.
Did you ever doubt yourself in your journey to becoming the successful woman you are today?
No, never! I never came to a point where I would doubt myself. I have had a roller coaster ride, but I always believed I would get out of it. Honestly, I never planned things in my life; I never thought I'd be in fashion or a model. So, I have always been grateful for what I have. No matter what the situation is, I always come up with a plan B.
Any future plans in terms of your career?
I really look forward to getting into one of the reality shows, like Bigg Boss or The Lock-Up. I am not up for films or Web Series, but I would love to explore more in Television series.
What's the best advise that you have received in your journey?
I was in Dubai, and I won Miss World Diversity 2018. So, I had a free tour and went to a fun evening fair. I met a sheikh who found me pretty and wanted to marry me. Listening to that, I was really flattered, but after that, a Pakistani guy came up to me. He was working there with an eagle in his hand. I remember when he said, don't settle for anything less; choose a man who respects your inner beauty and encourages you to be more successful. This advise will always stay with me. Today people want to marry me because of the fame of being a trans model but I am more to it.
Since you're a fashion icon for the trans community, what is fashion for you and what's your preferred fashion aesthetic?
Honestly speaking, fashion for me is comfort, and I love wearing off-shoulders, hot pants, and dainty attires to beat the heat! I love Urfi Javed's dressing sense, and her style matches my fashion taste.
As you have discussed, being positive in life, is there something you'd like to say to people suffering from depression or anxiety?
Even though I am a trans model, I am also depression patient, and I have learned over time that one needs to build a hobby. You cannot permanently bid goodbye to depression, but you can control it by involving yourself in hobbies, exploring new adventures, and taking time for yourself.
This brings us to our last question, what message do you have for the LGBT community?
I would personally suggest the people of that community to not be in a rush to come out. Take your time and reach a stable place in your life where you can fight back with more financial and emotional support. There's no hurry; just reach where you want to be and come out the way you want.

Add to favorites