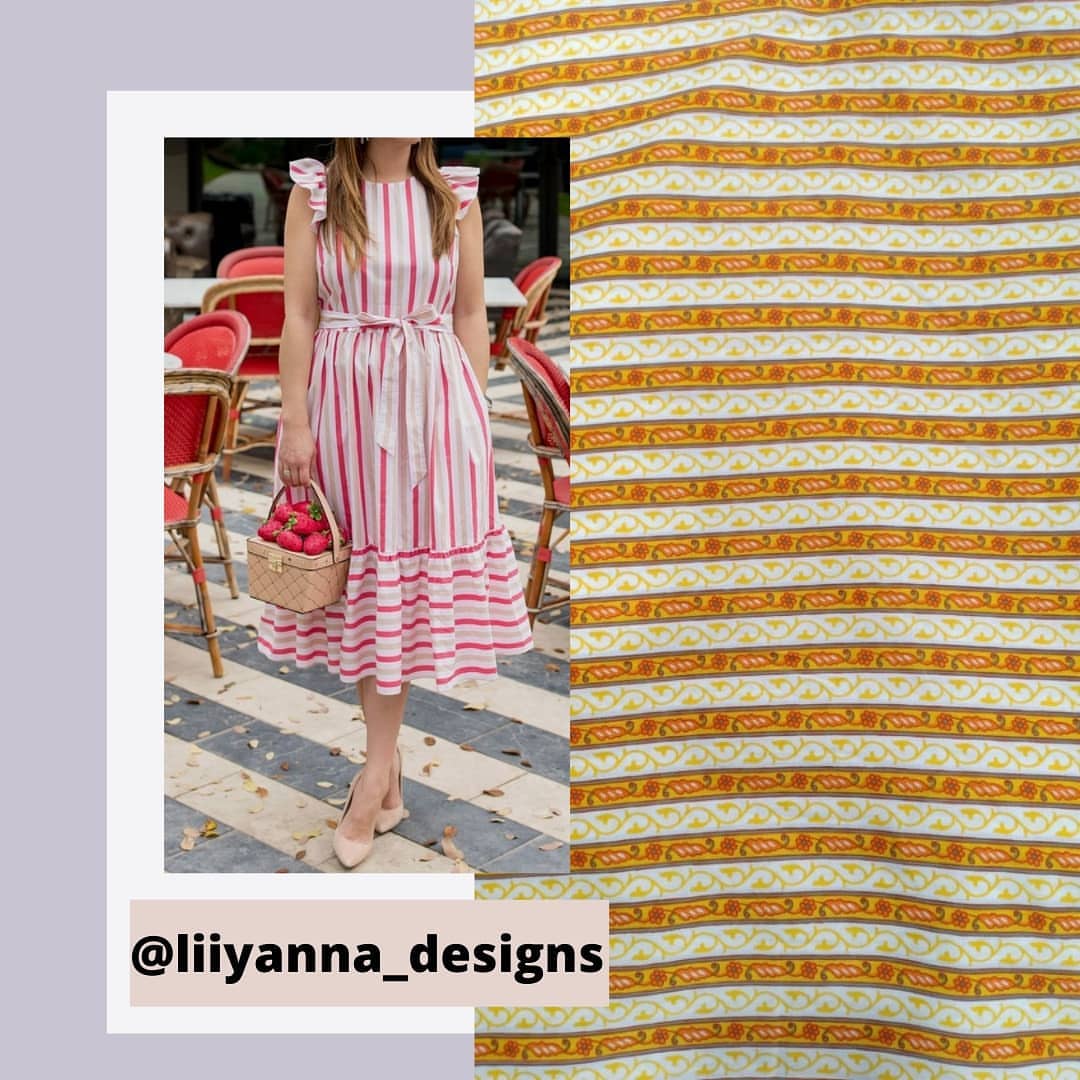 Liiyanna in Arabic, means to grow. Entrepreneur, founder, and fashion enthusiast Bhumika Thombre has been hooked on fashion ever since she was a child. Her passion for fashion was sparked by seeing someone sketch designer dresses at school. Her constant response to questions from parents and elders as to what she wanted to be since then has been a fashion designer.
Back in the day, starting a brand as a single woman was not an easy task. Not having enough confidence, partners, and practical knowledge were some of the big challenges she had to face. The trial and error approach allowed Bhumika to explore her field without giving up, and that's how Liiyanna first became a reality 13 years ago after doing her very best to establish her own studio with her friend/partner earlier but later she only continued doing it. She spoke with us about her 13-year journey as a one-woman army and how she still continues to do great things.
We are so thrilled to have a woman of her caliber on board.
This is how she responded to our questions.
Let's just hop right into her tale!
What is the meaning of 'Liiyanna' and the story behind it?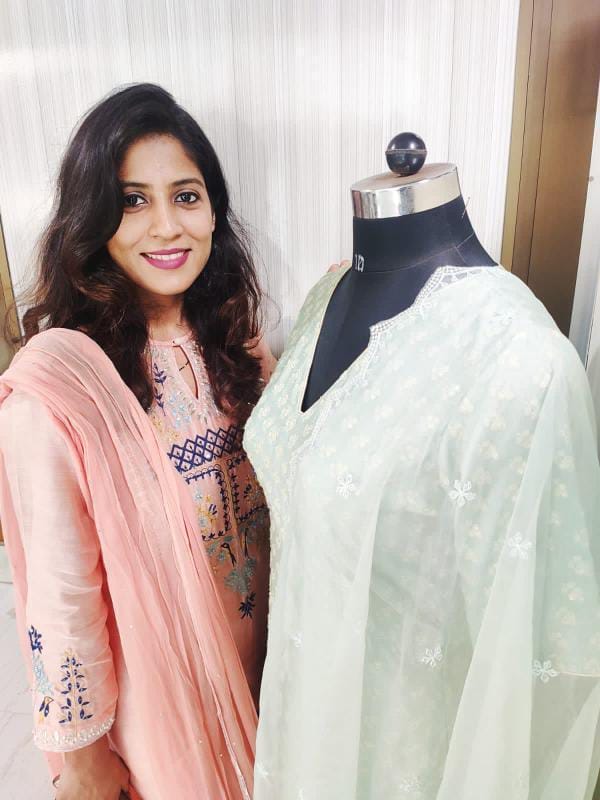 My friend and I looked up several words and phrases to come up with the ideal name for my brand. I looked up words in other languages as well, and we ultimately settled on the Arabic term Liiyanna, which means growth and flourishing. In addition to the name's significance, I purposefully chose that name with the help of a numerologist, believing that the number of words should be matched to my lucky number.
Your company's logo seems to be simple and minimal. What message does your logo convey? What role does psychology play in your logo design?
The word Liiyanna contains two double "I"s and an "N," which according to numerology has some significance. In addition, I deliberately went with a simple design in pink to help people remember it.
Liiyanna means growth. This is a reference to the moon growing after Amavasya. My business was in partnership at the beginning, and the lucky number for me and my partner was 9, so I added double "I" and "n" at the beginning of my business name, Liiyanna, so that when I added those two letters it would be – 9.
There are many such stuff that are popular right now, including cosmetics, Western outfits, 90s fashion, DIY art and craft projects, and sustainable products, but you choose to stick with clothing brands and ethnic wear. Why is that?
Customers are significant in my life. I consider my customers' opinions when I create anything, be it a basic chunri or a designer saree. Moreover, all of the marketing that I do on my social media accounts features clothing that I have designed and created for my customers, with a little help from my fashion sense.
While I also create western clothing, the majority of my clients choose ethnic looks, so I fall in line.
What varieties of clothes do you manufacture?
As a fashion designer, I'm expected to try out every innovative style and design. Therefore, I design every piece of clothing precisely, including the most basic blouses, sarees, lehengas, churidar dresses, long and short one-piece outfits, and any other ensembles my clients request.
I make an effort to make each new creation distinctive and interesting with a bit of warmth and a personal touch made with love. I often curate designs using diverse specialities from Indian cultures, since I like to try new things.
Do you use organic materials?
Since organic clothing is somewhat pricey, it is, to be very honest, impossible to choose it for the budget. Likewise, clients want the best product at the lowest cost, so everything I design is entirely dependent on their needs. If the budget is sufficient, I prefer to use organic cloth; otherwise, I also use other materials in my work.
How is Liiyanna different from other such brands?
As I already stated, my customers and their demands have my whole attention. Here at Liiyanna, I try to consider my clients' opinions and create the designs in accordance with their demands as well, as opposed to creating my own designs and presenting them.
Because we provide our customers with the ability to come up with creative ideas, and we bring their imagination to life on the fabric, Liiyanna stands out from other brands. Here, they ask to tell us what they want, and we make it happen, rather than imposing our designs and variations on them.
How did you manage to continue your business in Covid-19 Pandemic?
The pandemic period was really challenging for both my business and me. The orders dropped, and I had fewer options to make money than others.
Even though the orders I received were my main source of money, I was still able to pay my employees on time without first considering my own needs. The money that was left over was used for my family, with timely wage payments being the top priority.
Do you have alternate career apart from Fashion Designing?
Since I was young, I have had a passion for fashion design, so I have chosen to focus entirely on that. I have been working as a fashion designer for the past 13 years, and I plan to continue doing so.
However, I want to explore soon and step outside my design comfort zone. I haven't decided on a job yet, but I'm planning to do something different from fashion.
We all know starting a business is not a piece of cake. It needs a large amount of money, effort, and manpower. So, how did you secure funding for your business?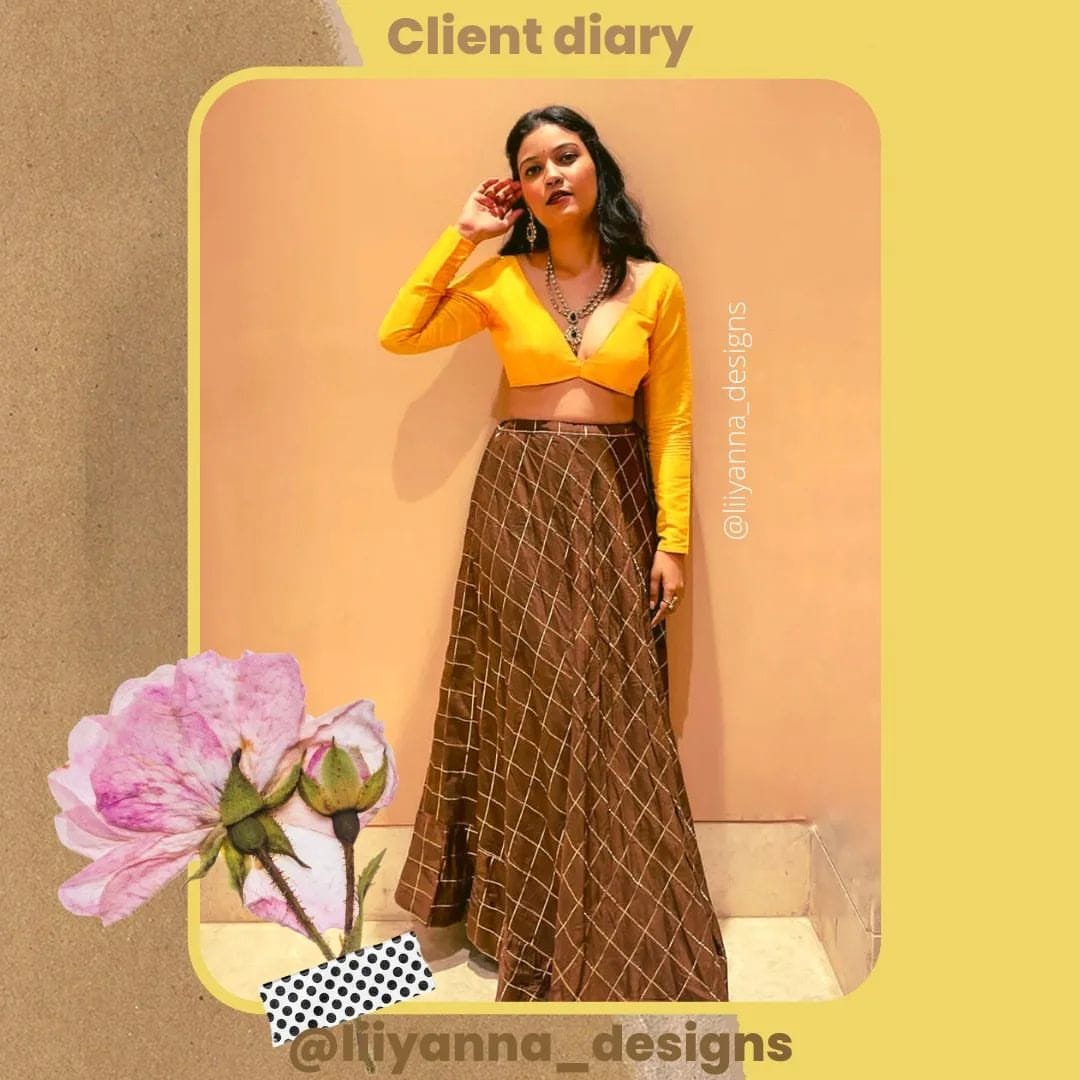 It is definitely not simple to talk about money. I used all of my savings and my previous budget while keeping in mind that starting a business and significantly growing the customer base require financial resources. I rated my services extremely low and pocket-friendly during the first year, but after gaining experience, I handled the pricing appropriately so that I could manage the business, assistance, and my personal expenses accordingly.
In terms of manpower and effort, I have been the sole person in charge of all responsibilities since the beginning, including accepting orders, manufacturing, designing, marketing, and shopping as necessary. The fact that I am the only woman in my company's staff means that managing it all on my own is not an easy task.
How have you expanded your customer base and what percent of revenue do you spend on marketing?
Till last year, I never marketed myself. To be honest, whatever customers I gained is from mouth publicity. Recently, I had to collaborate with some public figures, and I started promoting my brand only on Instagram. When I have free time, I try to be as active as I can and share my most recent work on the page. Since I don't have a social media manager for the brand, it doesn't need any money for marketing specifically.
Being the sole owner of the company and responsible for all duties, I was the only one who could grow my clientele. I will continue the work till the client is happy. I welcome unlimited editing requests and will do everything in my capacity to deliver the best quality. This helps me grow my business and attracts clients who have faith in me.
How challenging it is to be a woman entrepreneur?
Being a female company owner is challenging in our patriarchal society. There are many comparisons between men and women, and society constantly reminds women to take care of household duties first before working for a business. In contrast, a working man is seen as normal and is expected to work outside the home, keeping it his first priority.
This is certainly true, but seeing a lady in a low position is unacceptable, and that is where the difficulties begin.
I've experienced similar issues in the past, and juggling home and work without stumbling is quite challenging.
Still, I want to encourage aspiring businesswomen to continue and to believe in themselves. It is not easy, but it is not impossible either.
What is your opinion on Men's fashion? How is it different from women?
Men's fashion is significantly more difficult to design than women's fashion. Men's apparel has a very small variety of designs, and creating them on fabric requires a lot of work and imagination. There are not many males who are willing to try out new trends, styles, and fashion, which restricts them from trying on a variety of outfits.
Unlike men, women have a wide range of options and are adaptable to change. This differentiates it and makes it difficult.
There are few Marathi celebrities who promote your brand and wear your clothes as well, what would you say about it? How did you reach out to celebrities?
Two of the celebs you saw on my page are my very close friends and were ready to try my clothes and, if liked, promote them. I worked as a fashion designer for a few well-known boutiques and brands before starting my own brand, Liiyanna, which made celebrities enjoy my work even more.
In addition to this, I tried to contact Marathi actress Sayali Sanjeev to help advertise my brand; she was interested and accepted the offer.
Everyone is aware of how powerful social media is today. If you don't post samples of your work on social media, it has no value.
What social media platforms do you use most frequently and where do you see the best outcomes?
I have been taking marketing seriously since last year for that reason. I currently use Instagram exclusively, and the results have been decent so far. Because I believe it's necessary, I do my very best to market my own products. Our presence on Facebook and Instagram gives us the chance to grow our brands.
Perhaps in the near future, I'll look into working on additional social media platforms.
We thoroughly enjoyed talking to you and learning about your work even more. On this note, we'd quickly end this session, but before that, I'd like to ask a last question.
What would you say about Beyond the Punchlines and our initiative?
I was very happy when I initially heard about this initiative. Being an entrepreneur, I am aware of how crucial it is to showcase our brand to as many people as possible. Beyond the Punchlines is giving us an opportunity to grow as people and a genuine platform. I wish you success and urge you to continue helping those like us.
Read Next- Ex-Roadies Marking Her Name In The Fashion Industry With The Banjara Trail

Add to favorites