Why Argan Oil is something you cannot ignore anymore-Know all about this miraculous product
Living in the world of pandemics has surely changed our approach towards health. The new diseases arising have magnified our mindset and we have been driven to find new ways to enjoy good health. What if we tell you that you can have plenty of benefits from a tree that lives up to 300 years?
You would take it as a tale of an alien planet. But such is not the case as the tree is the one that offers Argan Oil. Many of us already using it as an ingredient in various cosmetics. Yet, we remain unaware of its origin, its type, its mode of sourcing and important benefits.
Join us as we take you to the shores of the lands of Argan tree and unravel some common and unknown facts about this miraculous oil.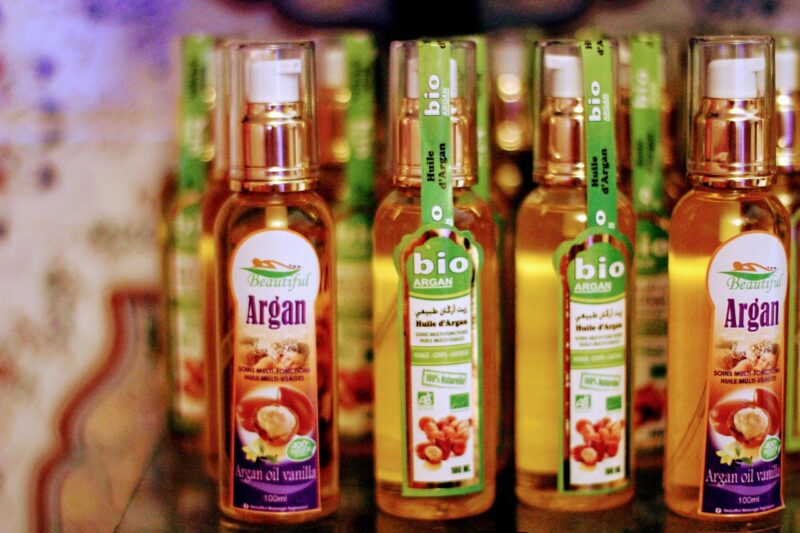 Overview
Argan oil is a naturally rich organic ingredient extracted from the seeds of the argan tree. Argan oil acts as an endless supply of elements such as Vitamin E and fatty acids. It is used for cosmetic purposes, particularly hair and skin.
Origin
Argan oil is known to be first discovered by Leo Africans in the year 1510. It comes from the fruits of the argan tree which is scientifically recognized as Argania Spinosa L. The tree species grow in Morocco. At present, around two million Moroccans survive by cultivating or producing argan oil that is 100 percent pure.
The argan tree
| | |
| --- | --- |
| Synonyms | Moroccan Ironwood |
| Scientific name | Argania Spinosa |
| Family  | Sapotaceae |
| Habitat  | Southwestern Morocco, the area between Agadir and Essaouira |
Biological details of the argan tree
The argan tree is believed to be endangered. However, as an effort to preserve the tree species, it has been regarded as a world heritage by UNESCO. There are hard conically-shaped nuts around the tree that contains rich oilseeds. The tree can have a recorded age of around 300 years. To achieve a high quality of oil, the argan tree has to be planted for around 125 years. Also called as the Moroccan ironwood by locals, the argan tree grows in southwestern Morocco between the lands of Agadir and Essaouira.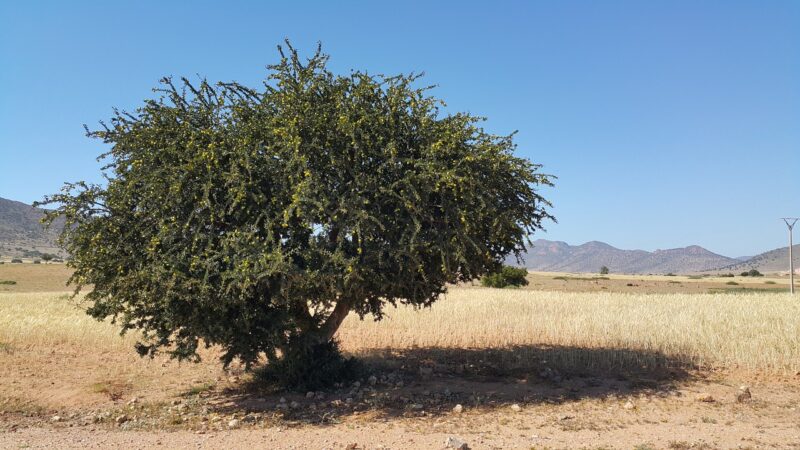 The tree can survive a desert climate by collecting water in its leaves. These leaves also serve as a source of water for thirsty animals. The crown of the argan tree can reach up to 14 meters. The overall growth of the tree remains limited in the hot and dry season but boosts up in the rainy season. During monsoons, the tree produces abundant leaves, fruits and flowers. The olive-like yellow-colored fruits ripe after two years and produce large nuts. The nuts contain seeds from which the valuable oil is extracted. Here's a documentary video showing the natural biosphere reserve and extraction method of argan oil in Morocco.
Argan oil ingredients
Argan oil is scientifically identified to contain Vitamin E as tocopherols, unsaturated fatty acids, fatty acids, phenols, carotenes, and squalene. Amongst phenols, the main natural ingredients are (+)-catechin, (-)-epicatechin, caffeic acid, vanillic acid, resorcinol, oleuropein, and tyrosol.
The relative density of the argan oil is supposed to be around 20 degrees Celsius. It usually ranges between 0.906 and 0.919
A tabular representation of the composition percentage of fatty acids in argan oil is described below:
| | |
| --- | --- |
| Fatty acid | Percentage |
| Oleic | 42.8% |
| Linoleic | 36.8% |
| Palmitic | 12.0% |
| Stearic | 6.0% |
| Linolenic | <0.5% |
With the help of mass spectroscopy (a technique of identifying ions and chemicals), studies have shown traces of other phenols like ferulic acid, syringic acids, and resorcinol. Five types of alcohols are also present as the constituents of argan oil by the researchers. These are believed to be ubiquitous triterpene alcohols. The percentage composition of these alcohols in argan oil is given below:
| | |
| --- | --- |
| Alcohols | Percentage |
| Tir-ucallol | 27.9% |
| β-amyrine | 27.3% |
| Butyrospermol | 18.1% |
| Lupeol | 7.1% |
| 24-methylene cycloartenol | 4.5% |
Argan oil cosmetic uses
Since ancient times, argan oil is used to treat skin diseases. Since the oil is rich in vitamin E content, it finds its uses for cosmetic purposes in hair and skin treatments.
One of the most common uses of argan oil is for skin hydration and softening. The oil is easily absorbed and non-greasy. It is also beneficial in making your hair look silkier and shiner. It also has application as a hair styling agent due to its frizz-preventing property.
Today, argan oil is very popular in various cosmetic products. Many cosmetic industries are using it as their trademark promotion due to its rich properties and rare availability.
Argan oil for hair
The tocopherol present in the argan oil helps in regenerating hair follicles by enhancing hair cell production. Due to this, argan oil is quite popular as effective hair oil. Argan hair may also provide nourishment for keratin which is the main constituent of hair strands. It also helps repair the damage done to the hair and scalp. Argan hair oil removes split ends in a natural way. It leaves our hair silky soft and provides luster to the texture. Furthermore, studies suggest that argan oil can promote hair growth while diminishing hair fall to a great extent.
Argan oil for face
Studies have shown that the long-lasting benefits of argan oil can have a positive effect on the skin. Being natural oil, it is useful as a moisturizer to brighten and soften the skin. The oil absorbs quickly and is non-sticky. Due to its properties, it proves to be highly effective as a daytime facial cream. The oil has a light hydrating effect and you can apply it as an overnight treatment cream. The contents of the argan oil for the face are of high quality and hence, only a few drops can does the magic for a single application on the face.
Argan oil is perfect for different types of skin. People with dry skin can reap the benefits of hydrating effects while people with oily skin can use the oil as a balancing product for oil production levels. For those who have sensitive skin, argan oil is safe and poses no side effects.
Argan oil for acne
Based on the personal experience of users, regular use of acne can help diminish existing acne and future breakouts. It also reduces the appearance of earlier acne marks on our faces. One can easily find various online sources where the users have shown the effects of argan oil for self-acne removal.
Many believe that argan oil helps cure acne by simply creating healthy skin. Healthy skin has normalized levels of sebum which makes it look youthful. Studies on the acne removal property of argan and every research has revealed positive outcomes. It is also a fact that repetitive use of argan oil can prevent acne problems and make skin look younger for a longer period of time. Women in Morocco have been using argan oil to keep their facial skin healthy for hundreds of years.
Argan oil against cellulite
Cellulite is subcutaneous fat that causes dimpling of the skin on certain parts of our body, especially women's thighs, and hips. Argan oil is a popular massaging oil for cellulite-prone areas. This helps in stimulating the circulation of our body. Argan oil also breaks up fluids beneath the skin, leaving a better appearance. It also reduces the appearance of pregnancy marks, adolescent growth, weight fluctuation marks and other stretch marks. The oil is one of the perfect massaging products for reducing cellulite.
So that is all to tell you. Goodbye..
Wait-Its not over
Pre-cap
Argan oil is a vast subject and to cover everything, you have to wait for the next phase of this blog. Check out part two in which we tell you about some amazing benefits of Argan oil. We shall also shed light on the culinary use of Argan Oil and how it has become a productive norm in the cosmetics industry. Until then, keep checking our blogs for more informative pieces of writing.

Add to favorites