When we run fast to achieve everything in this busy world, we ignore our health. Even if we consider health, we don't consider mental health due to the taboos and stigma. People around us experience emotional, psychological, and social well-being, even though we experience it too. But we never thought that we were suffering from mental health problems.
Biological factors, Life experiences, such as trauma or abuse, career issues, and Family history are the basis for mental health. Here we adjust ourselves and suffer rather than consulting someone. Our actions depict it as Pulling away from people, having low or no energy, feeling helpless or hopeless, being attracted to drugs, experiencing severe mood swings, thinking of harming yourself, or sleeping for hours and hours. Yeah, but after this, we ignore it.
More than 50% of people are diagnosed with mental health problems, as per the center for disease control and prevention. Then What is the reason behind this behavior of ignorance? Lack of knowledge, low acknowledgment of mental health. Here we need to persuade people to acknowledge this issue and for that film is the best way. The masses watch the film without binarization of gender, age, caste, and religion. Films are something that unites the people. Those three hours is a good time to persuade someone to think in this direction.
Dear Zindagi
The social life involvement and personal level loneliness. This socializing lifestyle even increases this issue. The reasons are pretty obvious loneliness and pretending to be something you do not belong to. 2016 released Alia Bhatt, and Sharukh khan starred movie "Dear Zindagi", is in same grounds. The story revolves around Kaira, a young girl with relationship issues. She meets Dr. Jehangir, who assists her in resolving her troubles with her parents and gaining a new perspective on life, allowing her to pursue her passion and enhance her love life. The director shows how much mental health affects our lifestyle and how much counseling is helpful in this movie.
Tamasha
Another non-linear romantic film, "Tamasha," comes up to cater to mental illness. Imtiaz Ali directed, and Ranbir Kapoor and Deepika Padukone starred in Tamasha talk about borderline personality disorder. Ved (Ranbir Kapoor) is one such unstable character who learns that the only way to stop his misery is to write his own story.
Ved and Tara meet by chance in Corsica, France, and resolve to spend the next seven days together without ever revealing their true identities or promising to meet again. Tara finally falls in love with Ved and, after 4 years, returns to find him and assist him in discovering his true story and where he belongs.
Taare Zameen Par
Children are a form of God; we all heard this right. But do we consider that these gods also face trouble? Masterpiece Taare Zameen Par purely and deeply conveys the truth about differently-abled children. Also, how they are surviving in this world. Amir khan directed and started this film; it makes you cry.
Ishaan Awasthi is an eight-year-old youngster whose world is full of wonders that no one else appears to see. Things like homework, grades, and neatness seem to be far more essential in the adult world. On the other hand, Ishaan can't seem to get anything right in class. He is sent to a boarding school to 'be disciplined' after getting into far more trouble than his parents can handle.
Things aren't much different at his new school, and Ishaan is dealing with the added stress of being separated from his family. Ram Shankar Nikumbh, a new art teacher, emerges into the scene one day, infecting the children with pleasure and hope. He asks them to think, dream, and imagine, breaking all the conventions of 'how things are done,' and they all respond enthusiastically, except Ishaan. Nikumbh quickly notices that Ishaan is unhappy, and he sets out to figure out why. He eventually helps Ishaan find himself through time, compassion, and care.
Chhichhore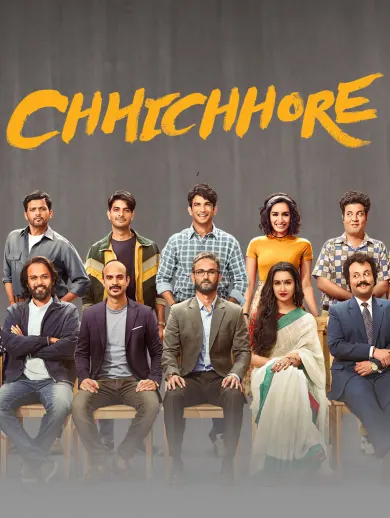 When we talk about safety, we only consider physical safety. We ignore psychological safety and mental health. This issue was raised in one of the iconic films Chhichhore. Sushant Singh Rajput and Shardha Kapoor starred in this film were released in 2019. the plot revolves around a group of engineering students and their transformation from losers to winners. Sushant Singh Rajput (Anirudh) and Shraddha Kapoor (Maya) play a divorced couple who enjoy a sort of reunion with their college friends, albeit under less-than-ideal conditions.
They recollect and relive their old college memories, both good and unpleasant, from nearly two decades ago. The screenplay takes you on a journey down memory lane through college dorms, sports grounds, and cafeteria chats; when you cut to the present day, you see the same camaraderie in their friendship that they built in college.
Bhool Bhulaiyaa
Everyone's identity is very important to them. Think about those who suffer from a dissociative identity disorder. Bhool Bhulaiyaa horror comedy film Talk about this problem. The film starts with Siddarth and Avni, who have recently married, returning to their village, where his childhood friend Radha is furious over his marriage to Avni.
They choose to reside in their ancestral palace, which his uncles Badri and Batuk oppose because they believe it is haunted by the spirit of a dancer Manjulika, who was lusted by Siddarth's ancestor Raja Vibhuti Narayan.
On Durgaasthmi, Raja had killed her lover Shashidar and imprisoned Manjulika to marry her, where she hanged herself and cursed to haunt the castle. After they hesitate to transfer to another location, Siddarth's entire family begins to live with them in the palace for their safety. They are not permitted to enter the room where Manjulika died. Since that day, when Avni enters the room without permission, hell has broken loose and everyone lives in fear of odd occurrences happening around them.
All of this seems superstitious to Siddarth, who believes Radha is behind it. He calls his friend, psychiatrist Dr. Aditya Shrivastav, to help him deal with the issue. He attempts to be happy, but the family misinterprets Aditya as an idiot. Aditya bravely roams the area late at night to unravel the mystery, which leads to a surprising twist.
Want to Write for Beyond the Punchlines? Click Here
Get Your Own Article Published at Beyond the Punchline. Click Here

Add to favorites