Sustainable And Eco-Friendly Hotels That Are Worth The Visit
Marvelous things can be found throughout the globe. When it comes to choosing a sustainable and eco-friendly hotel, it's no wonder that many people have difficulty narrowing their options down to just one. When looking for a hotel, customers choose eco-friendly and sustainable hotels from across the globe when searching. Summer temperatures surge, rain is sporadic, glaciers melt, water bodies dry up, and the list goes on and on. As long as this goes on, individuals will eventually find themselves precarious. The hotel business is no slouch for adopting environmentally friendly methods, and many other industries have followed suit.
International Hotels
Silky Oaks Lodge, Queensland, Australia
When planning a trip, many people prefer to be surrounded by an eco-friendly atmosphere. On the Mossman Gorge River banks, only minutes from Daintree National Park and the Great Barrier Reef, you'll find Silky Oaks Lodge, a premium eco-friendly hotel. The visitors who stay here will be able to experience the actual thrill of being so near to nature.
Macaw Lodge, Costa Rica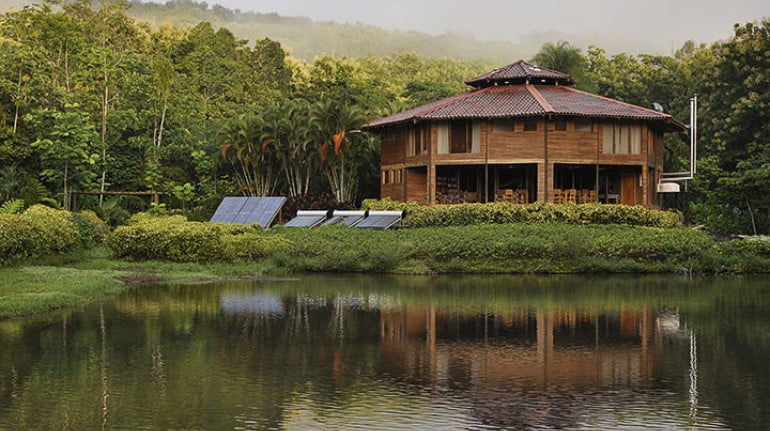 Macaw Lodge is one of the most sustainable and ecologically friendly hotels globally. This eco-friendly hotel utilizes renewable energy and recycles more than 80% of garbage.
Macaw Lodge is also self-sufficient in terms of food production. The farm that is only a few miles away supplies many of the ingredients for the meals provided to both guests and employees.
Macaw Lodge is placed on Costa Rica's Central Pacific coast, a tranquil haven for travelers. Guests staying at this hotel have easy access to several natural areas, including the Carara National Park, the Turrubares Hills Forest Reserve, and the Fernando Castro Cervantes Wildlife Refuge, all of which can be reached by car.
Sarna Residence San Quirico d'Orcia, Siena, Italy
Located in Val d'Orcia, Sarna Residence San Quirico d'Orcia is an old Tuscan farmhouse that has been lovingly restored. Located in the Tuscan city of Siena, the Sarna Residence San Quirico d'Orcia is a sustainable and eco-friendly hotel. Enjoy the peace, tranquillity, and seclusion in this serene location.
Those who work and live in megacities yet are constantly stressed out prefer to come here and enjoy this sustainable and eco-friendly hotel to relax and rejuvenate.
Indian Hotels
India is a country with a rich cultural heritage. However, one thing that unites the many peoples of this land is a deep reverence for Mother Earth. Respecting the environment, interacting with the community, and caring for all living things are hallmarks of India's most excellent eco-friendly hotels. As well as providing the greatest in luxury, these one-of-a-kind hotels excel in their comprehensive sustainability approach.
Evolve Back, Kabini
Two banks of the Kabini River encircle a wildlife hotel. With Evolve Back's lovely position, one can't help but feel as though they are in the center of nature. The hotel in Karnataka was inspired by the Kadu Kurubu clan that lives nearby. In keeping with the traditional village aesthetic, the homes on this site are constructed from locally obtained natural materials and mix in harmoniously with their surroundings. To minimize the resort's environmental impact, it has been designed with the utmost attention to detail and offers guests genuine local experiences.
Large lounge spaces, luxurious bathrooms, and outside courtyards are just a few modern touches that add to the whole experience. One of the most attractive features of this hotel is that it comes with not one but two swimming pools. Both the adults-only infinity pool and the family pool provide a wide range of activities for guests of all ages.
SUJÁN The Serai, Jaisalmer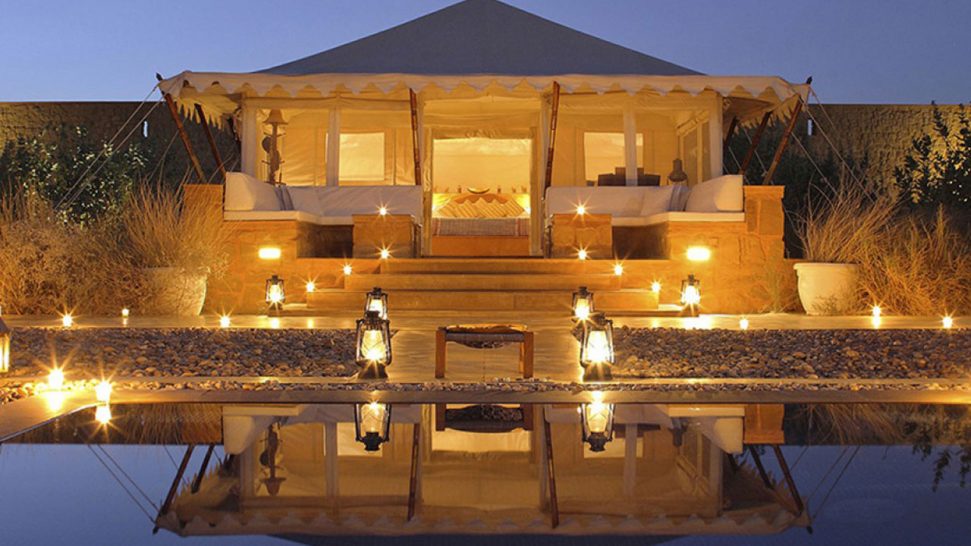 SUJÁN The Serai is one of India's most lauded green hotels. At about 45 minutes from Jaisalmer city center, it's one of Rajasthan's most popular tourist destinations. With its desert surroundings, SUJÁN The Serai is an unexpectedly luxurious hideaway and a place that respects the sacredness of its surroundings.
Glamping is redefined in each of The Serai's 21 tents. Extravagant amenities like heated jacuzzi pools and king-sized beds covered with the best linens are offered in addition to ordinary conveniences. SUJÁN is well-known for its commitment to the protection of the surrounding environment. As a result, guests can look forward to farm-to-table eating, unparalleled access to the area's animals, and the opportunity to become involved in community improvement initiatives.
Alila Diwa, Goa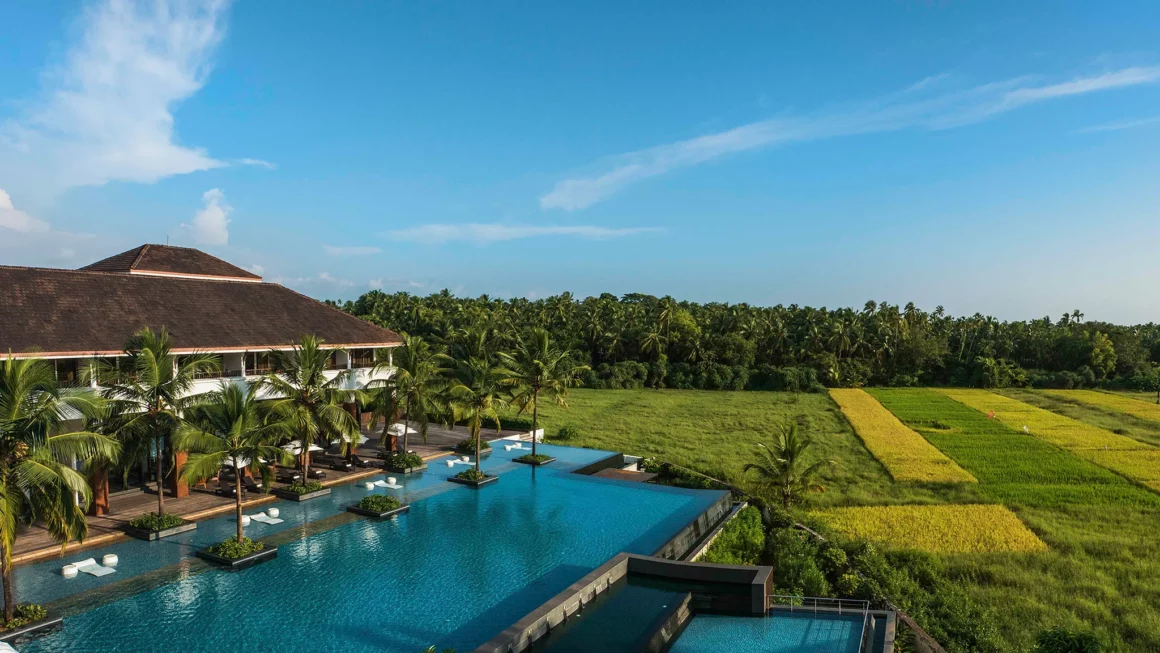 It is a very unique and sustainable hotel in the Indian state of Goa, Alila Diwa. In the middle of verdant paddy fields, it is a retreat for those seeking peace despite its distance from the nearest beach. Alila Diwa helps the local youth club while also caring for a nearby beach as part of her community service. At the heart of the hotel's philosophy is the belief that a harmonious relationship between luxury and its surroundings can only be achieved through regional materials like red laterite stone.
Gastronomes who like freshly prepared meals can make a reservation for dinner at Spice Studio, a popular local hangout. The infinity pool overlooking the paddy fields is a must-do for visitors staying at the hotel.
Conclusion
Throughout the globe, sustainable and eco-friendly hotels are now accessible to guests. So that everyone can go on their next trip and feel safe about it. When people stay at environmentally friendly hotels rather than polluting ones, they're helping the earth and their community at the same time.

Add to favorites