Dishes From Kerala Cuisine That Needs to Be Famous
Aside from admiring the beautiful places of a tourist destination, why do people travel? For the experience, yes, of course, but also for the food! A visit to God's own country, Kerala, would be incomplete without experiencing its gastronomical delights. It's no secret that Kerala's food is legendary.
A trip to Kerala won't be complete without tasting its amazing food; there are many traditional Keralan dishes people generally try when they visit this beautiful place, such as the classic beef stew and wash curry (fish curry). But, today, we are going to talk about some not so well-known but undoubtedly the most delicious foods you can find in Kerala after a wild night out. Here are some of them
Unnakaya/Kayyada/Stuffed Bananas'
Photo Credit: Suji's Cooking
A popular breakfast in Malabar, Unnakaya is made with boiled and mashed bananas, stuffed with coconut, sugar, and nuts, and then deep-fried in oil. This breakfast resembles the form of unnakaya, which means cotton fruit, as the name implies. It is a traditional Muslim dish prepared during weddings and Malabar festivals such as Ramadan. Usually, in traditional recipes, scrambled eggs are added to the filling. But don't add, because I don't like eggs on grated coconut. Smile. This is a healthy breakfast for children and the little picky eater really enjoys this breakfast.
Ingredients
Banana (medium ripe) –2

Grated Coconut – 1/4 cup

Cashew nuts – 1tbsp

Raisins – 8

Sugar – 5tbsp

Ghee – 1 tbsp.

Cardamom Powder – 1tsp

Coconut Oil – for frying
Preparation
Steam the bananas over medium heat until the bananas are tender. Remove the outer shell and cut it in half. Remove the inner black seeds. Mash well with a wooden spoon without lumps. The consistency should be thick. If it's too sticky, add a little rice flour and mix well to get a thick, dough-like consistency. set aside.

Heat the ghee in a skillet. Add cashews, raisins, grated coconut, and sugar. Bring to a boil over low heat. Add cardamom powder to it. Mix well. Remove from stove and let cool.

Divide the mashed bananas into equal-sized lemon balls. Rub your palms with oil. Take the ball in your left hand and flatten it by pushing with your other hand to form a circle.

Place 1 tablespoon of coconut filling in the center and cover tightly, bringing together all sides of the mixture.

Shape into a cylindrical or oval shape.

Heat the oil in a frying pan. Fry bananas until golden.

Once enough pieces are ready, heat some oil and fry the pieces. Golden brown Unnakayas are ready to go with your tea or coffee.
PINEAPPLE PACHADI
Photo Credit: Times Food
Pachadi is usually a curd-based side dish that is lightly seasoned and may be referred to as something like raita. A South Indian side dish that's technically chutney but like curry. The word "Pachadi" means to hit. And this patchouli is sure to pamper your taste buds with traditional Kerala cuisine. There are so many types of patchouli that you can make with your choice of vegetables or fruits. Most Pachadi is quick and easy and can be prepared in 10 minutes. They are good for health as they cool the body and add an element of instant refreshment.
INGREDIENTS
1 cup Pineapple, finely chopped

1/2 cup Curd

1 tsp Jaggery, can add or – based on your preference

1/2 tsp Red Chilli powder

1/2 tsp Turmeric / Haldi

Salt to taste
To Grind
1/2 cup Coconut

1 tsp Jeera

1/2 tsp Mustard

2-3 no's green chili

Water
To Temper
2-4 tsp Coconut Oil

1/2 tsp Mustard

1 no Red Chili

few Curry leaves
PREPARATION:
Finely chop the pineapple. Transfer to Kadai.

Add salt, scallions, red bell pepper, and chili. Add a glass of water, cover, and simmer for 4-5 minutes. Pineapples should be soft and smooth.

Meanwhile, puree. Coconut, cumin, mustard, and large red chilies. Add a little water while grinding.

Add the ground masala to cooked pineapple. Mix well and add a little water if necessary to adjust the consistency.

Bring the filling to a boil over medium heat. Eliminate the smell of raw masala.

Turn it off Add the whipped curd and mix well. Be careful not to thicken the curd.

prepare for drying. Heat the coconut oil. Once blended, add the curry leaves and red chilies. Pour over the pineapple fields.

Delicious Pineapple Pachadi is ready to be served. Enjoy rice or as a complement to anything
Honey Sesame Chicken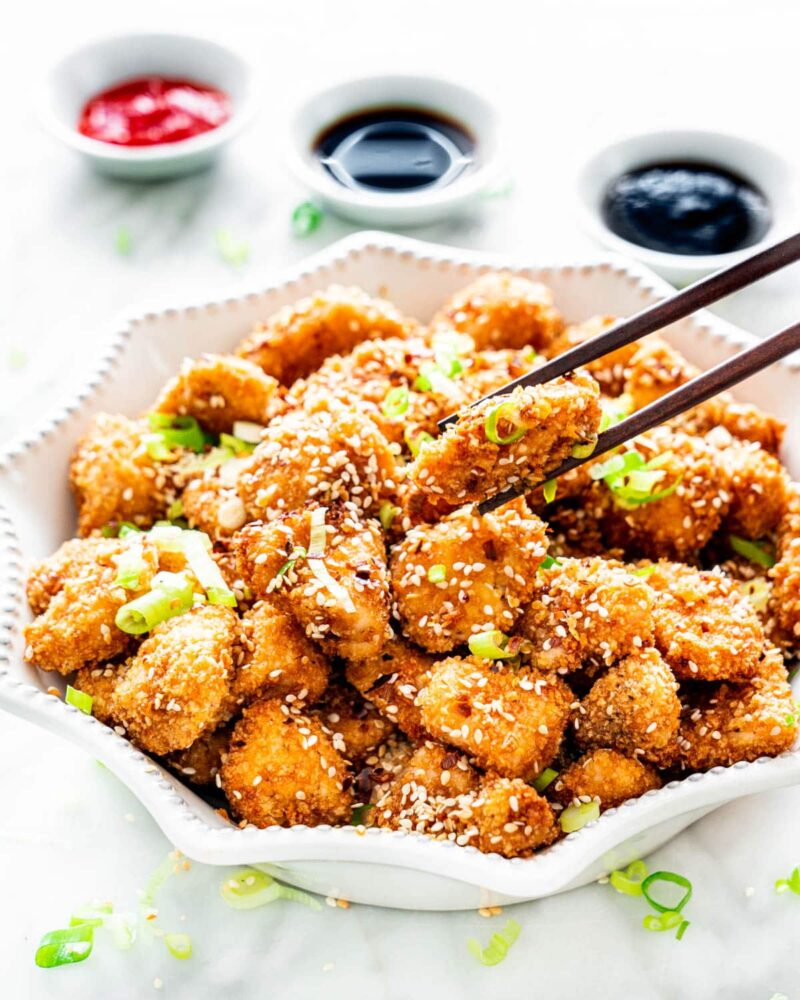 Photo Credit: Jo Cooks
Longing for something exotic but simple? Then this quick and easy Sesame Chicken Recipe will tickle your tongue. Only a few ingredients are required to prepare this dish. Made with the goodness of chicken and spices, this delicious chicken recipe takes your enjoyment to the next level. Honey Sesame Chicken is one of the easiest recipes to try at home. Made from everyday ingredients in your cupboard, this is one dish I always make when my siblings and I crave Chinese food. It's a delightful dish to prepare and eat, to say the least.
Ingredients
For chicken
1 1/2 pounds boneless chicken breast, cut into 1-inch size

2 broken eggs

salt and pepper to taste

1/2 cup all-purpose flour

1/2 cup cornflour

cooking oil
For sauce
1 teaspoon vegetable oil

1 teaspoon fresh garlic

1/4 cup honey

1/3 cup soy sauce (sodium reduced if possible)

1/2 cup soy sauce

3 tablespoons brown sugar

2 tablespoons of rice vinegar

1 tablespoon toasted sesame oil

2 teaspoons cornstarch

2 tablespoons of sesame seeds

2 tablespoons chopped green onions
Preparation
Beat the eggs with the salt and pepper in a bowl, then stir to combine.

Place flour and 1/2 cup cornstarch in a shallow bowl or plate. Stir to combine.

Dip each piece of chicken into the egg mixture and then into the flour.

Heat 3 inches of oil in a deep skillet to 350 degrees F

Place 7-8 pieces of chicken in the pan. Bake for 5 minutes or until crispy and golden brown. The same process goes for the rest of the chicken

Drain the chicken on kitchen paper

While the chicken is cooking, combine the honey, soy sauce, tomato sauce, brown sugar, rice vinegar, sesame oil, and 2 teaspoons of cornstarch in a bowl.

Heat a teaspoon of oil in a large skillet over medium-high heat. Stir the garlic into the pan for 30 seconds for a flavourful dish. Add the honey sauce mixture and let it boil. Cook until thickened or 3-4 mins.

Stir the sauce into the crispy chicken and toss to coat. Sprinkle with sesame seeds and your dish is ready to be served.

Add to favorites