Story of Vijendra Shekhawat and His Interesting Paper Business 
Vijendra Shekhawat was once visiting the Amber Fort with one of his friends namely Mahima Mehra. While walking around the Fort, just when he was about to put his foot on the elephant's dung, Mahima nudged him in time. Interestingly, elephants are common sights on the outskirts of the Fort as elephants rides are popular there. Thus, elephant dung is a permanent part of the place.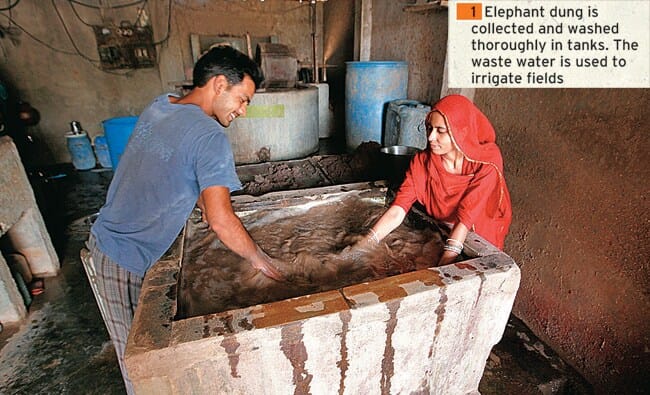 Shekhawat was already running a small handmade paper business at that time. He stared at the smelly lumps and an idea occurred to him that he could use them as raw material for papers. Or at least could give it a try since elephant dung is rich in fibre content. When he shared this idea with others, people called him insane. However, Shekhawat knew that he would not let it go until he experiments with it. He possessed the knowledge that an elephant's gastrointestinal tract does not digest fibres properly. Thus, its dung forms the pulp which can be used to make papers. 
Moreover, Shekhawat's mother was also against this idea. She was totally mad when she heard it from him. She even told him that she could not bear the fact that elephant dung would be entering their home from now onwards. She further told him that nobody would marry him because of his occupation. However, Shekhawat gradually convinced his parents and friends of the idea. To take his family's approval, he told that in Hinduism an elephant's dung is considered holly because of Lord Ganesh. 
Eventually, he started working on his new idea and established a brand named Haathi Chhap in 2004
The brand makes papers from recycled dung. And, today, these papers are sold in more than 40 outlets in India and are also exported. In 2011/12, it earned total revenues of Rs 35 lacks. At present day, the brand has outlets in every metro. The high demands come from Mumbai, Bangalore, and Chennai. Haathi Chhap consists of cards, notebooks, bags, photo albums, and several other stationary things. 
Even though the journey was not smooth for Shekhawat, he did not abandon his idea without trying. Initially, it was so difficult to get workers who were willing to sully their hands into the dung. Only a few would get ready to do the task. Since Shekhawat was not sure about the result and familiar with dung to make paper out of it, most of the time used to go in experimentation. He would disinfect and experiment to see if it would yield the right quality of pulp for making paper. He spent months on it until he achieved the perfection to use it the right way. 
People used to think that he had an obsession with dung. When in reality, Shekhawat had experimented with many other things as well. He had even used the fibrous remains of banana tree stems. Moreover, he also tried to use silk threads to make decorative papers. Interestingly, none of those experiments worked out except the elephant dung. 
Above all, today everybody is contended and respects Shekhawat's business in his family
He got married to a woman who had no problem with his occupation. In fact, she fully contributes her hand to running the business. The business is a cottage industry to date since Shekhawat has only employed three men to do the necessary tasks. For example, these three men only would heat, clean, and sort the dung. While he, his wife, and his brother look after the subsequent processes. 
Shekhawat even collects the dung himself every morning. To get good quality, he supplies the green fodder for the elephants' diet to the owners. His story is an example, of how a small idea can be turned into higher ladders. And believing in yourself, when everyone else criticizes you, is the most powerful weapon one can use to make any impossible thing possible. 
She Changed The Dumping Ground To A World Heritage Site 

Add to favorites