Top Journalists of the world
Journalism is the compilation and broadcasting of reports on the interactions of incidents, statistics, concepts, and individuals that are "news of the day" and that at least partially enlighten society. The term refers to a job, a process of acquiring information, and a way of grouping literary styles. Journalism's role as the fourth pillar and a guard for fraudulent activities and injustice in the country. Thereby, imposing an unmistakable obligation on reporters to be proficient as well as hardworking as they are righteous and moral. However, it may be claimed, that the technological era we experience presently, with its simultaneous accessibility to data, click-bait customs, and democratic journalism, has severely hampered the availability of professional journalists.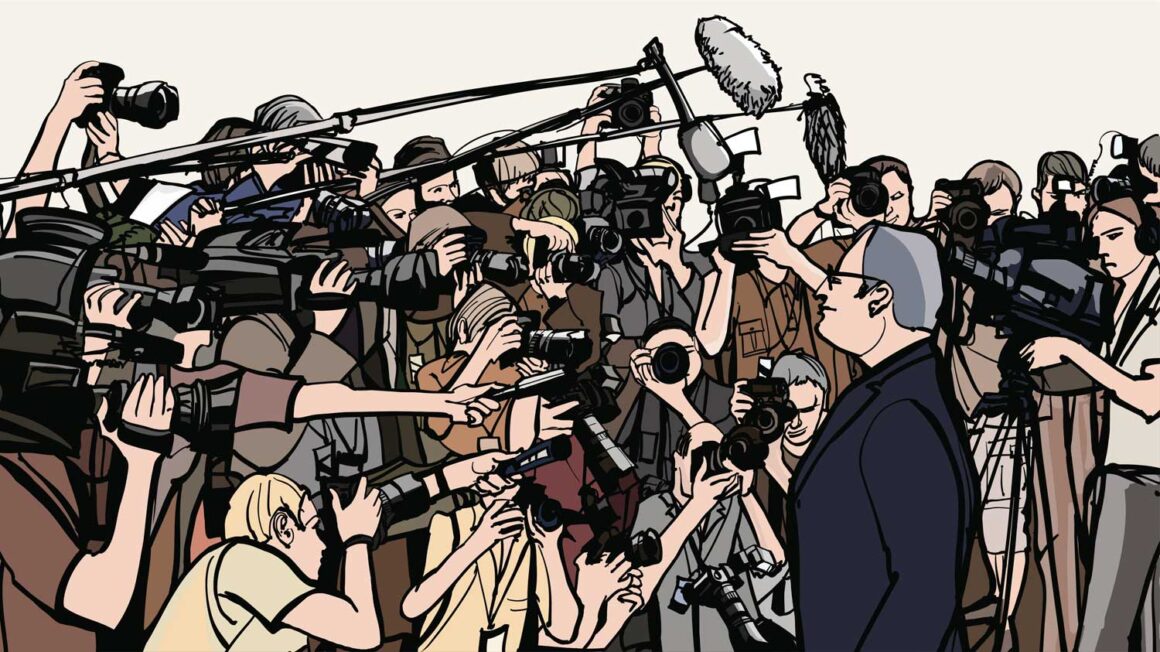 A FEW QUALITIES THAT SHOULD BE IN A GOOD JOURNALIST ARE (5):
Integrity: A "strong ethical core" and integrity are the must-have qualities to be an adequate and responsible journalist. To succeed, journalists must obtain the trust of their viewers and readers. It is a journalist's responsibility to provide the public with accurate and dependable information. If a journalist is ever placed in a situation where their integrity might be jeopardised, they should step aside. Reading and following the Code of Ethics of the Society of Professional Journalists is a useful method to become familiar with journalistic ethics.
Courage: A good journalist must be brave and bold as well. Having bold interrogations and investigating to a greater extent when necessary is the role of a journalist. To exhibit an accurate story, personal feelings must be set aside. Journalists are most of the time always required to be reporting from the ground to capture a thorough and distinctive story. This includes going to extreme and dangerous events to gather information.
Communication skills: A journalist must have excellent communication skills. Interviewing sources and writing in-depth stories and reports require these talents regularly. A bachelor's degree in communication or journalism, as well as some type of internship experience, is required to work as a journalist. A journalist must also be well-versed in technical writing and source attribution, as well as possess excellent English grammatical abilities.
Analytical mind: A competent journalist should also be analytical, allowing them to write tales based only upon facts rather than personal feelings. Critical thinking abilities and solid judgement are important for a journalist while reporting. Even when deadlines are tight, a journalist should hone these abilities to accurately report stories and verify that the material they find is correct.
Good with technology: Journalists need to have technical abilities to use software or apps to modify their work. They should be comfortable using cellphones or tablets to take notes when out in the field. For data and statistics verification, a journalist should be able to access various research databases and publications. Journalists should also know how to use programs to add photographs, videos, and text to their pieces before posting them online or preparing them for print publication.
FEW OF THE TOP INFLUENTIAL REPORTERS ACROSS THE WORLD ARE AS FOLLOWS (1) (2):
Lester Holt remains one of the most well-known names in the industry when it comes to the top news journalists. Since 2015, he has been the permanent news anchor on NBC Nightly News, where he consistently covers some of the world's most difficult subjects. He was the first Black person to host. He has been a part of the NBC news network since 2000, after spending 19 years with CBS News.
He has covered some of the most memorable moments in global history throughout his remarkable career, which spans several decades.
Anderson Cooper is a well-known American journalist who is presently seen on Anderson Cooper 360, his independent news program. Before presenting his show at CNN in 2003, he has previously worked as an ABC News correspondent in 1995 and then as a CNN anchor. After he covered the Iraq war and Hurricane Katrina for the Anderson Cooper 360 news program, the anchor became a popular figure. Cooper works as a correspondent for CBS's 60 Minutes in addition to his job at CNN.
Cooper has won multiple honours for his work since 1993 when he won a Bronze Telly Award for his coverage of the Somali crisis. Four Emmy Awards, a Peabody Award, and a National Headliner Award are among them.
David is a respected news journalist based in New York and the present anchor of ABC World News Tonight. He has been a household name in America and is recognized throughout the world as a result of the show's enormous success.
He has earned many Emmy awards as well as several Edward R. Murrow honours for his foreign reporting, which has included a wide spectrum of big news items. His career began in 1994 as an anchor and reporter for WTVH-TV, but by 2021, he has recently been appointed as the main anchor for trending topics and special events.
Shereen is among India's very well-known news reporters, and she currently serves as the Series Editor for Young Turks, one of the country's longest-running programs. She previously worked as a reporter and news anchor for several of India's most well-known programs, including India Business Hour and The Nation's Business. Bhan is also known as the Executive Head and Delhi Bureau Chief of CNBC-TV18 in India.
She is well-known for her warm portrayal on camera, and she has won numerous honours during her career. She was also awarded FICCI Woman of the Year in 2005 and was also designated a Young Global Leader by the World Economic Forum in 2009.
Robin Roberts is among the most renowned reporters in the industry as the host of Good Morning America on ABC, one of the most popular mornings shows in the world. She made her debut as a local sports anchor for local radio and television broadcasts in Mississippi before moving on to ESPN in the 1990s.
She joined ABC in 2005 and has covered a wide range of news issues, as well as published several books on self-help and inspirational topics.
Christiane Amanpour is among the most notable names in the industry as the Chief International Anchor for CNN, as well as the host for the media outlet's international news program, Amanpour.
She became one of the most followed journalists by world leaders on Twitter in 2015, as per PR firm Burson-Marstellar. She is known as a lone reporter to interview Hosni Mubarak and has also interviewed Muammar Ghadafi during the Arab spring.
She has earned numerous honours for her outstanding reporting, which include nine Emmys, over her three-decade tenure as a British-Iranian journalist. In 2011, she was awarded the Walter Cronkite Honor for Excellence in Journalism as well as a Giants in Broadcasting award. Amanpour is a panel member to Protect Journalists, the International Women's Media Foundation, and the Center for Public Integrity's board of directors.
Sucheta Dalal is a novelist and journalist from India. For the past two decades, she has made a significant contribution to the field of business journalism. She is the publisher of Moneylife, a weekly publication. She received the Padma Shri award in 2006 for her contributions. Her career as a journalist began in 1998 when she began working as a finance editor for the "Times of India." The writings about the 1992 securities scam are among her best works. She is one of India's most prominent journalists.
Hu Shuli is a journalist from China who became the editor-in-chief of Caixin Media, a news corporation she formed in 2009. Shuli formerly worked for China Business Times as a chief reporter and international editor before launching Caijing, a business and finance magazine where she also served as editor-in-chief for the past 11 years. She was recognized as the 87th most powerful woman on the planet by Forbes and was also named as Time magazine's Top 100 influential people in 2011.
Presently, she is a board member of the International Women's Media Foundation and is recognized for her daring courage in the sector and her analytical work on fraudulent activities. She is also a member of the Reuters Editorial Advisory Board and serves on the International Center for Journalists' regional advisory board. Hu was recognized as one of Fortune's World's Greatest Leaders in 2017.
Fredericka Whitfield, CNN
Fredericka began her career as a media correspondent for NBC and is now one of CNN's top anchors. She joined the network in 2002 and has contributed to the coverage of various big events, including being the first media journalist to report on Ronald Reagan's death.
She appears on CNN every weekend from their international headquarters in Atlanta as one of America's top media reporters.
Eugene Scott, The Washington Post
Eugene Scott is a correspondent at The Washington Post at the present. For The Fix, he majorly reports on identity politics. Before that, he was a fellow at Georgetown University's Institute of Politics. He had been working as a breaking news correspondent for CNN Politics before joining the Post. He was a part of CNN Politics' "The First Time I Realized I Was Black" program, which generated increased public discussion on how skin colour affects how people are regarded.

Add to favorites