Another name for India is Beauty. Sadly, this beauty is diminishing slowly and steadily. The Handicraft Industry of India is fading away with each passing day. Our rich heritage is losing its essence and none is bothered. Why? Because top class finished products are easily available. Because cheap and pocket friendly international products are easy to buy and are hassle-free! Just think once if we are also contributing towards the 'The Diminishing Handicrafts Industry of India.' If yes, then it is high time we realise the urgency to safeguard the art and skills of our soil.
Handicrafts in India Reflect Emotions
India is a rich country with so many cultural groups and tribes all around. The handicraft items are not just products by such groups but are their legacy. Their efforts are merely not for gaining profits but are for carrying forward their ancestral skills and keeping them alive. If we try to view the handicraft industry of India from a different perspective, with a pinch of emotions, we would get the whole idea of saving their skills. Oh wait! Not just emotional, it is all practical as well. Before the skills of India get extinct, ring the alarm else India would be losing its greatest business too.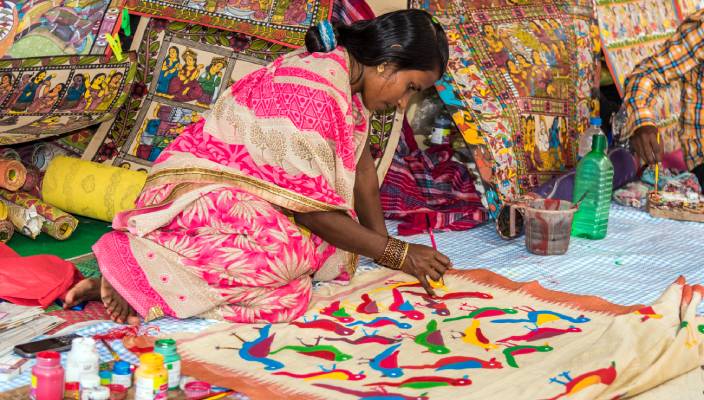 Reasons For Extinction of The Handicraft Industry
There could be many reasons for the handicraft industry in India depleting day by day. For some, it could be lack of opportunities while for others, it could be financial issues. However, it is a bitter truth that instead of growth and development in this sector, totally opposite to it is being experienced. While India is developing and witnessing a progressive phase, it is sad to know that the handicraft industry is being left behind.
Import – Export Ties With Other Countries
Business ties with other countries, even with enemy countries has closed doors for our local handicrafts to have an edge. It is strange how other products float in our market but there is no voice for the domestic and local artisans. Well, it is high time we scream 'Vocal For Local' loudly!
Technology Did Not Benefit Our Handicrafts
Technology and machinery are known to make lives easy. However, this advancement did not bring any benefit to the Indian handicraft industry. Machine made products lessen the costs and provide absolutely finished final product. Hence, the machinery and technology sideline the hard-work and skills of our artisans.
No Benefit From The Jajmani System Now
Earlier, the craftsmen used to procure raw material through the Jajmani System. This has been erased in the modern set up. Exchange of raw materials with certain services from the other party helped the artisans to keep the trade direct and easy. Now, we have middlemen exploiting our artisans. Moreover, the geographical conditions have also changed. Thus, it is not necessary that the raw material is available readily within a certain boundary. Transportation costs, middlemen costs, and other expenses are put on the shoulders of the crafters.
Lack of Selling Opportunities
Now we have limited exhibitions, craft melas, or haats. Even if we have, people go for clicking selfies and making blogs. The idea of a vivid colorful Indian culture attracts people but no one buys handicrafts to support the artisans. The point here is- if we get to modify the fashion and interior trends by discarding the machine made products and flaunting the ethnic handicraft items, we can definitely make a difference. After all, more is the demand, more would be platforms for the artisans to display and sell their handicraft items.
Hopefully, now you know what all our artisans are going through. So, if you wish to gain a little inspiration to stop the process of 'The Diminishing Handicrafts Industry of India', then keep reading this article till the end.
What Can We Do For Our Handicraft Industry?
Just have a look at what Vandana Shiva, an Indian Scholar and environmental activist has to say. If these words did not hit you hard, then you can't step ahead to save the art and artisans of India.
"The fact that I still find so much beauty in a handicraft is because my mother taught us to see not just the craft as a product but the craft as an embodiment of human creativity and human labor"

– Vandana Shiva
Now question arises- What can we do? Being social media pros, we can definitely pick and choose the artisans on the verge of extinction and can provide them a spotlight! How about teaching them the usage of social media for promoting their business? So, let's get started! Keep the following points in your mind and see what best you can do.

Social Media For Handicraft : Our local artisans need to have a social media space. If they can be provided a platform to sell their products, they are good to go. Their online presence can also reach to other parts of the world and the business can be expanded.
Portray The Indian Style of Handicraft: Their story need to reach out to people. Anything that has emotions to it, wins the hearts. Popular TV channels, YouTube Channels, and Bloggers should find out the Indian artisans and portray their style of creating handicraft items. Their problems, cost management, techniques, etc. should be highlighted.
Let 'Made In India' Be Everywhere: If the government is taking any initiative of 'Vocal for Local' or ' Make In India', then we must contribute for the same. Irrespective of our policial stand, we must think of preserving our ancient skills and art. And don't mind singing 'Made in India' song by Alisha Chinoy! Maybe you get the vibe to begin with a mission of restoration of our art and handicrafts.
Flaunt The Handicrafts: You must have heard an Indian saying 'Khaao Man Bhaata, Pehno Jag Bhaata.' It means Eat to taste, Dress to please. So, if the fashion and interior trends are according to the society, then why can't we mould it? After all, it is us who create and weave this society. Therefore, let us just flaunt and spread the handicraft items as much as possible so that they become an evergreen trend of India.
Conclusion
We have the power to make 'The Diminishing Handicrafts Industry of India' as the 'Emerging Super Hit Industry of The World.' All it requires is some enlightenment, and the urge to safeguard our artisans and their skills. Let's preserve what we have in abundance before it goes away forever!

Add to favorites