An Inspiring Story of Binalakshmi Nepram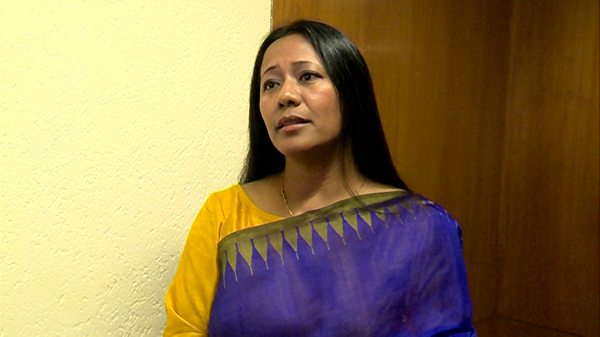 Binalakshmi Nepram's story goes back to the day in 2004 when in a village near Imphal (the capital of Manipur), she met with an awful incident. She was in a meeting that day as an academic researcher with a group of women activists. It was then that she heard the chilling sounds of gunshots. Within a moment of seconds, one of the meeting attendants named Rebika Akham became a widow. The incident took place less than a kilometre away and took a 27 years old man's life. This man was Rebika Akham's husband.
There were three assailants who dragged the victim from his workshop and shoot him at point black range. Shockingly, Rebika and her family still don't know the reason for the murder and the assailants. Rebika stood still in shock and denial. Her mother screamed in pain and uttered the words, "how will I feed you now?" Nepram witnessed the whole scene and both those women's states moved her deeply. She at that moment realised that she would have to set up a support system for them.
Nepram then somehow collected Rs. 4500 and bought a sewing machine for Rebika. She told her to make this sewing machine as her income source which Rebika did. That was the beginning of the long-awaited journey for Nepram to start a much-needed revolution in Manipur. She made up her mind to set up a support system for women who become victims of violence.
Manipur is one of India's most violence-stricken states and armed violence was a regular occurrence there
In 1997, Nepram joined Jawaharlal Nehru University where she began researching the violent situation in Manipur. Even though she was into research regarding the situation and often travelled back to the state for collecting primary data, she was not prepared for that incident which took Rebika's husband's life. After that day, she came to realise that the research alone could not contribute to bringing the required changes in the state. There were hundreds of young women in their 20s who lose their husbands to violence and become widows. Moreover, in most cases, such families have no financial support apart from the deceased husbands.
Apart from setting up the financial support system, Nepram also started issuing soft loans to those women by building a Network. Through these loans, they could start their small businesses which would benefit them in long term. This Network changed or rather made those women's lives who were shattered. It made them self-sufficient and confident to live their lives and look after their families' financial needs.
Most importantly, the Network also serves legal assistance to women who cannot afford lawyers
Thus, providing them with the justice and compensation they need. Moreover, it also makes arrangements with doctors who are willing to provide free checkups and dental care. In simple words, the Network provides medical help as well. So to take this whole process into work and to connect with such women in need, a meeting is arranged in any member's house and listened to those who require assistance. This meeting, above all, also works as a moment of togetherness where people gather and enjoy tea snacks together.
Even though there is no political response given to the Network, its women members are strong-willed. There is no sign of discouragement in them. It is a powerful team of women working tirelessly and passionately for needy women and children to make their lives better.
The Mizo Women Have a Long Way to Go Yet!

Add to favorites