The Story of Rajesh Naik and Odder Farms
There was once a barren land which was uncultivable. However, today when you visit the Odder farms near Mangalore, Karnataka (the land) you will find a two-acre lake filled with water and lush green vegetation. It was like a miracle was needed to turn that land into its current picture. And, the miracle was performed by a man named Rajesh Naik. Indeed, it was not a miracle but his consistent efforts that bore fruit. 
At present, 120 acres of barren land have been transformed into a self-sufficient organic farm. In fact, Odder Farms is one of the largest organic farms in the region. Apart from coconut, mangoes, bananas, Haldi, pepper, cashew nuts, and vegetables, it also consists of Areca nut plantations laying across ten acres of land. 
Besides growing fruits and vegetables, Naik has also set up a dairy farm consisting of 200 cows supplying about 800 to 1000 litres of milk. Milk has a constant supply demand by the Karnataka Milk Federation. Interestingly and beautifully, the cows have an ample amount of green grass which is grown on the farm only. Moreover, there is plenty of space as well for the castles to move around freely. 
What is more interesting about this farm is that it is fully self-sufficient
In simple words, manure and electricity production is other reasons for its self-sufficiency. Hearing this part of the story makes it look like the farm was always in this condition or that the journey was smooth to reaching here where it is today. The reality, however, is different and a little hard from it. Let's get into the past!
Rajesh Naik comes from a family of agriculturalists. The barren land that he has turned into a paradise farm is his ancestral land. For a long time, it remained untouched because of a lack of water and the hard laterite rock structures making it impossible to hold water for vegetation growth. Above all, when Naik decided to develop the land, people told him that he was taking a huge risk. According to them, the task was impossible and he was throwing away his career. 
However, he had already made up his mind and was certain that he would go with his decision
His first idea for the development was to grow water resources in the area. Now the idea might seem simple, but the financial resources and time to create the lake took a lot. Today, it generates about 40,000 litres of water that is used in irrigating the whole farm. Most importantly, it helped the area to be filled with greenery and springs have already started visiting it. It has also helped in increasing the water table in the surrounding areas of the farm. Naik moreover, has also planned to create another lake linked to the area of this lake.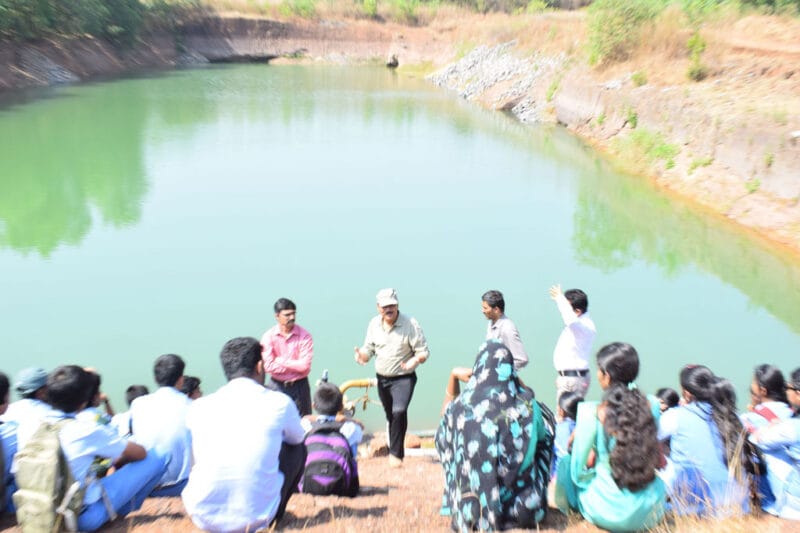 If every part of the country would start implementing the same idea and efforts as Naik, the whole country will one day be able to take care of its water problems. Above all, agriculture will be entirely based on organic farming. Naik states that if he could do this on this piece of land, it can be replicated anywhere. What counts is the will of the people and support from the government. 
Chewang Norphel, the Man Who Built Artificial Glaciers 

Add to favorites