Meet Lalita Debi Singh And Her Success Story
This is the story of an entrepreneur who took up this path of earning after witnessing poverty and helplessness in life. Lalita Debi Singh belongs to the Rayagada district in Odisha. She was born into a poor family which marked a full stop later in her education. She thus went to school until her 8th grade. Now, she was not only poor but uneducated as well. She was then married at the age of fourteen out of the family tradition to be marrying at this young age.
Lalita Debi Singh was contended with her marriage arrangement and was living her life as a homemaker. While her husband used to earn for the family. Within ten years of her marriage, she bore three children. Unfortunately, the year 1998 turned out to be a tragedy when her husband passed away suddenly. This was a turning point in Lalita's life as she was unemployed with three small children to take care of.
Her husband was the only breadwinner of the family. With his going forever and leaving her alone with kids, she had no clue how she was going to manage everything. Her family, however, supported her for a few months but they couldn't provide her with financial aid for a longer period. Hence, she finally came out of the house in search of a job. She took up many different wage-based jobs but that of course could not help her with his children's studies and other such needs.
Lalita moreover wanted her kids to acquire education and be literate so that they didn't have to live a life like her.
Her life went on doing such jobs for a few years until one day she joined a paper plate-making factory as a labourer. There, at the factory, she was quick enough to learn to use all the machines. She found her enthusiasm in this work. That's when it occurred to her that she could start her own paper plate-making factory.
Lalita discussed it with her parents and borrowed Rs. 15,000 to start her factory. However, the amount was not enough to start such a business as some machines, a rented room, and labourers were required for the role. Hence, she needed money in a large sums. She kept on applying for loans but to no avail as she was living in a rented house with no collateral to provide. Luckily, after some time one of her friends informed her about Bharatiya Yuva Shakti Trust. It is a non-profit organisation which helps business ideas to turn into profitable enterprises with financial help and guidance.
Through this organisation, she managed to get a loan of Rs 5 lacs from a public sector bank. Within the next 6 months of period, Lalita was able to start her factory and equip it with needed machinery and labour. Interestingly, instead of fresh new papers, she turned to old newspapers and other such papers for the making of her plates. Today, her factory manufactures 10,000 plates per day and earns a profit of Rs. 30,000 every month. Her factory even stood still during the pandemic with no dent which allowed the workers to remain employed at such a time.

Lalita's factory supplies the plates to all the nearby shops and districts
Most importantly, Lalita not only took a charge of her life but also helped other people like her in earning for their homes. Her factory does not only provide for her home but also a number of other houses. She hires people with the thought that they are getting jobs and earning for their families especially women who are in the same state that Lalita has gone through.
For example, a worker of her factory has stated that she was married at the age of 15 to an old man who died after three years of their marriage. Leaving her and their daughter behind. She had no way to go and ask for financial aid. In 2020, during the pandemic, she came to the doors of 'Jay Hanuman Paper Plates' (Lalita's factory) which took her in as an employee and thus gave her a permanent full-time job. The woman earns Rs. 12,000 per month from Lalita's factory and is happy and thankful to Lalita.
The factory has an annual turnover of Rs 25 lacs which allows Lalita to equip a paper sheet-making machine which fulfils the need for raw materials for the factory. She has a love and respect for her business and she manages it with full enthusiasm and heart which rightfully made her earn the Vijayalakshmi Das Entrepreneurship Award. The award is a symbol of her brilliance in her field.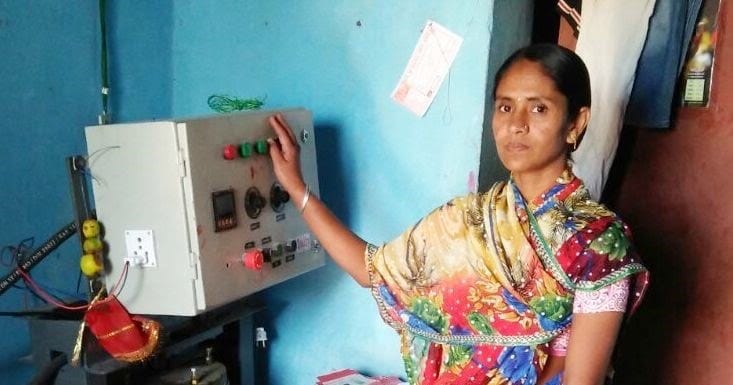 Mukund BS: The Man Who Created Affordable Computers From Scrap

Add to favorites