We belong to a country with many forms of diversity, be it the culture, language, food, tradition, or rituals. However, if there's one thing that stands out to the whole world, it's the peculiarity of Indian fashion. Our fashion world hails from the era of ancient India; isn't this such a proud feeling? It undoubtedly is; Indian style is quirky, traditional, unique, and changes with different locations of our country. So, if you're keen to know more about Indian fashion, its roots, tradition, and how it is evolving, congratulations because you have landed on the right page.
This article will uncover the history, influence, diversity, and uniqueness of Indian fashion that the whole world is obsessed with. The vibrant mixture of culture and history is how we define our country's fashion aesthetic, and we believe you'll agree with it too. Indian attires have always been expressed with colors, quirky designs, and head-turning outfits that are one of a kind. So, what are you waiting for? Begin your journey to learn more about Indian fashion and how it's slowly beginning to influence the entire world. Now without any further ado, uncover the beauty of Indian style.
History of Indian fashion
Do you know what the irony of Indian fashion is? Even though it's the oldest, it has constantly been evolving. Unable to believe it? Here is a fact for you; the Indian fashion world has been spinning and dyeing cotton clothes for the past 7000 years, from the Indus Valley civilization era. Epic sagas like Mahabharata and Ramayana also contributed to the Indian fashion customs.
However, back in the 50s, 60s, and 70s, the Indian fashion world didn't have any high-end brands, designers, labels, and models to flaunt, but its colorful and snazzy take on everyday outfits made it shine out to everyone. India took its fair share of time to adapt to liberal fashion, but that's what the contemporary generation believes. Back in ancient India, outfits were not designated to genders or bodies.
It was more about how pleasing they were to the eyes and how utilitarian they were. India became a widespread phenomenon; from the late 1980s till the 1990s, as India was congruously exposed to the global fashion world. So, that's when our country caught the pace.
World Famous Indian Fashion Tradition
India gave the world yoga, traditions, mythological stories, architecture, zero, and heritage but most importantly, it gave us a huge list of traditional fashion forms. So, tag along in the journey of knowing our traditional fashion forms in depth. At one point or another, we all said, "India is a diverse country," and now is the time to explore this statement in terms of our trends, vivid garments, and their impact on the global fashion world.
Saree
This unstitched cloth of 4 to 9 meters can turn heads quite effortlessly. This Indian female garment is worn all over the country, and it comes in a variety of designs and textures. Be it silk, cotton, organza, or georgette, with full sleeves or backless blouse designs, a saree comes in various forms.
Ghagra Choli
Hailing from Rajasthan and Gujarat, this traditional female clothing is evergreen. It consists of a long skirt with flare and a body-accentuating blouse with a heavy veil to cover the head, also known as odhani. This well-known attire is famous for the rich culture of Rajasthan and Gujarat. Its heavy veil adorns women with eye-catchy embroidery and mirror work. So, next, when you're exploring the street markets of Rajasthan or Gujarat, don't forget to get your hands on ghagra choli.
Dhoti/Lungi
Talk about the most classy traditional male attire, and dhoti will top the list. No wonder it's the traditional dress of our country as it has a rural touch but a dash of opulence. Dhoti or lungi is mainly worn in our country's southern and eastern regions. It's like a simple yet stylish wrap-around of cloth, mostly in white color or with subtle stripes. Held by wrapping around the waist, this outfit can make everyone slay.
Langa Davani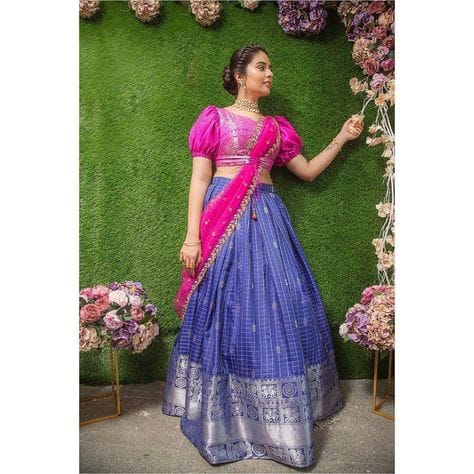 Similar to ghagra choli, Langa Davani is quite popular in Karnataka, Andhra Pradesh, Telangana, and Tamil Nadu. Also known as Pattu Pavadai, this South Indian outfit consists of a long flowy skirt with a body-hugging blouse which is recognized as sattai. This alluring dress is worn on festive occasions and for everyday use too.
Sherwani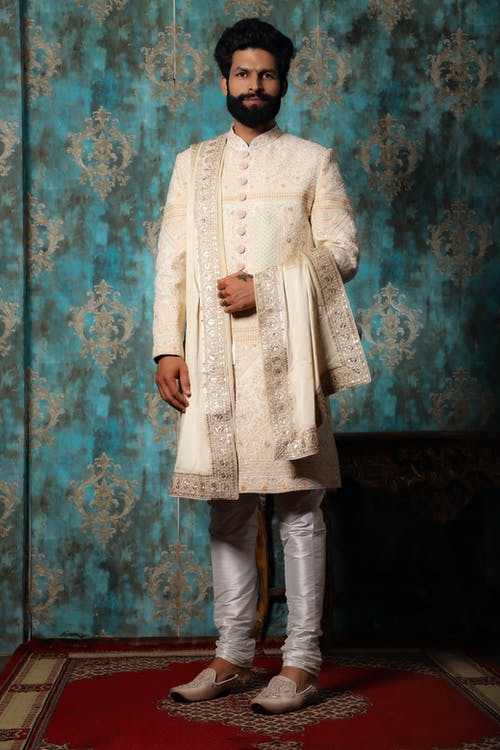 Sherwani is the unique take on Indian and British fashion fusion. This fashion pick is an amalgamation of the British frock coat and Indian salwar kameez, which is mostly worn at festivals, weddings, and other special occasions. This traditional male attire is worn across North India; after all, it's too tricky to resist its heavily embroidered jacket when paired with churidar (tight-fitting pants). So, next time you want to make a statement entry, opt for sherwani, and we bet it will never disappoint you.
Indian Influence on International Fashion
India stands out in many ways, and now its fashion diversity has reached the international runways. So, if you're curious to know what parts of Indian fashion have influenced the global fashion world, keep scrolling!
Nose Rings
Back in Fall/Winter 2017–2018, Jean-Paul Gaultier incorporated nose rings as the highlighting accessory of its collection. This show in Paris made nose rings the essential jewelry.
Maang Tika And Bindi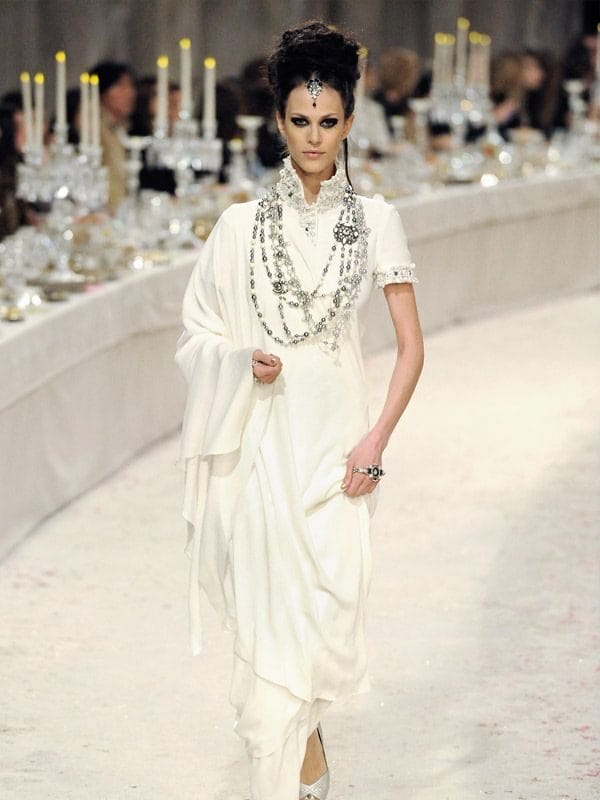 The Chanel Paris Bombay Fashion show of 2012 ensured that all the models slay the runways with maang tikaas and bindis. Karl Lagerfeld made this third eye of fashion the focal element of his collection.
Headgear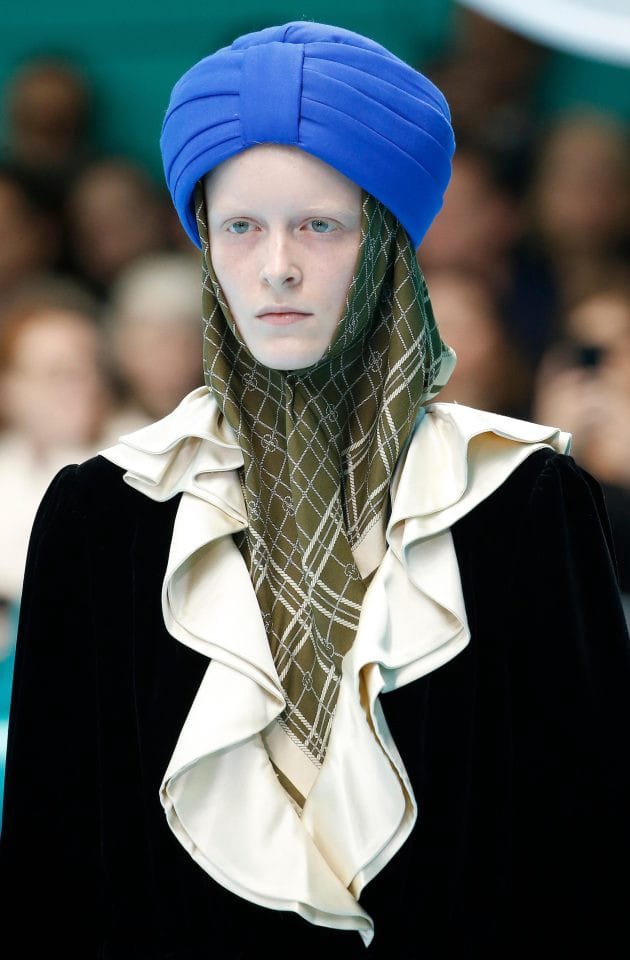 Gucci donned the runways in Milan Fashion Week 2018 by introducing famous Indian headgears turbans. Worn by Sikhs in India, Gucci brought global light to the religious significance of this accessory.
Now that you have explored the Indian fashion world in-depth, we are sure that you must be amazed by the rich heritage and culture behind it. The best part of Indian fashion is that it continues to evolve even though it is still in touch with its roots. So, if you are head over heels in love with Indian fashion, we hope our thorough research will help you decide on your Indian dress-up aesthetic.

Add to favorites