some new ideas to conceptualize in real life.A Pandemic Tale
A couple of years ago, things were not as same as they are now.
Crowds were seen in the streets, masks were just used in mills and chemical factories, no one knew the real use of sanitizers, hospitals functioned with normal daily operations, destinations were flooded with tourists, the air was polluted and lands were populated." Pandemic Depression"

Then in December 2019, our neighboring country with the largest population in the world reported the first case of Covidd. The term was unknown and we wouldn't have spent even a second to think about this novel disease. As we progressed into life, day by day, the cases seemed to increase.

Then came a day when the first case was reported in India, concerning the same disease. We imagined it to be just a casual warning. We all expected the risk to be handled and the cases would converge as sooner as they emerged. But destiny had a different story.

Covid quickly became more popular than the latest Bollywood picture. We were observing the start of the change. A change from which our world would never recover. Attending gatherings at crowded places became identical to stepping on land with mines. Travel stopped, gyms and swimming pools were shut down. Theaters and hotels faced losses. Vegetable markets were banned and share markets collapsed. Was this the end of the world?

More the time passed, more cases emerged. The disease that affected our long-distance friends arrived at our close recent relatives. Things became frightening. People who were not affected had constant pressure of being safe, tensed about their loved ones, thinking of ways to be with family. Those who
were affected were gasping for breaths, searching for beds in hospitals, begging their known ones to arrange oxygen cylinders.

People who lived abroad could not catch up with their families due to air travel restrictions. Isolated people feared the spread of diseases in the family. Self-isolation became worrisome with most of the essential services limited.
And there were many other factors to weep about.

All of this led to the arrival of a new type of depression-called Pandemic depression. Phew, let's take a break. Enough of negative thought processing, right?
Worry not as we are not here to depress you further.
Without going through the saddest phase of the pandemic, we shall look forward to the optimistic side
of this blog. Step by step, we shall discover how you can deal with pandemic depression and come out
of it with a new lifestyle.
Present day situation
After experiencing an upsetting roller coaster ride of the Covid diseases and their variants, we are now swaying towards a normal life. In the present day, Omicron is surely a threat with the third wave knocking on our doors. But things are becoming normal and even this third variant is kneeling before
humanity and its efforts. With vaccination drive on roll at a global level, many people have stronger immunity now.
Also, the awareness created by the government authorities has made every citizeneducated and mindful of social distancing and other precautions.
But there is something that is still haunting many people in India. The depression that came with the covid situations has not been dealt with. And even healthcare providers or government facilities are not
at all talking about this. So what exactly is it and how it is affecting our lives?
Deep down look at the pandemic depression
Depression is usually a cause of negativity that keeps on coming back into our minds, conjuring our consciousness. During covid, the depression levels seem to be rising due to factors such as isolation,
anxiety, financial insecurities, loneliness, boredom and a daily dose of bad news due to the pandemic.

This can take a heavy toll on anyone's mood. Many people also witnessed the harmful effects of covid on their mental status which also leads to depression. Other stresses such as loss of job, social isolation from friends, health loss and overall feeling of losing everything gave rise to pandemic depression. This
even accelerated if you are found Covid positive.
What happens in pandemic depression
If you are suffering from a pandemic depression, you will feel bleak all day. You will have less energy and fewer things to cheer about. This will make your mood negatively and if any bad news comes, you will feel depressed further. It's like mud snatching away your hopes and optimism.
And since the covid is not there for just one or two days, but months and years, the process seems to be devastating. The pandemic depression can drain your energy, making it impossible to make it throughout the day.

The good news is, the severity of this type of depression doesn't mean you cannot come out of it. Same way as we are coming out of the worst time of the pandemic, it is easier to come out of its depression too.
All you need to do is to have reliance on yourself and have strong determination while trusting in that everything will be good again. Here are a few tips you may follow to come out of pandemic
depression successfully: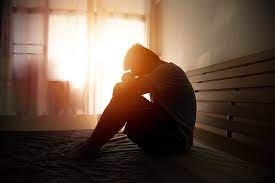 Adopt a new hobby
When you are facing depression, you might find yourself ideal most of the time. You are not able to realize this as the thought process of your mind keeps working continuously. You have to stop it. You need to take a break and tell yourself- stop this thinking. And if it's hard to do, it's better to indulge in
some hobby.
There are many hobbies that people have adapted to during the lockdown phases. These not only help evoke the creative side of you but also help in reducing thoughts about adverse things that cannot be
controlled otherwise. Some of the interesting hobbies you can look forward to being:
Gardening- start with your terrace or balcony garden
Paintings- start with painting as a kid and continue to improve
Music and singing- start listening to new music daily and try recording your singing
Art and craft- make new things out of old objects at your home
Writing- start crating a diary and maintain it regularly
Cooking- start preparing new dishes after watching YouTube videos
Note that all of these hobbies do not require any extra apparatus or material. These can be learned or practiced at home. You can adapt any other hobby too as long as it doesn't require any huge investment.
Start hearing good news
When Covid began battering our lives, it all started with media coverage. We all used to switch on the TV channels and get tense watching cases increasing and people dying. This has to be stopped in the light of curing pandemic depression. An interesting thing to do here is to start looking at the news, not
on television but on the internet or your smartphones.
This idea really helps. Let us tell you how. Media and TV offer news that they cover and whatever they want you to know or see. However, the internet is governed by your choice of search. You can search for anything and it will show you millions of results. If you search for 'list of people admitted in hospitals today, it will start throwing up bad news randomly.
If you search for 'people cured today', it will show you a huge list as well. So you know which
news to search for. Start with searching for good news on the internet. Trust us, there is tons of good news to be seen, heard, or viewed even in the worst-case situations. You can search for the new vaccines, recovery rates
around you, home recovery percentage, less dangerous symptoms of the covid and the total number of people that battled Corona.
This will really light you up from the inside and you will start thinking positively about the situation. And as a matter of fact, there are really positive facts around us. You just need to know them to feel happy inside out.

Another good way to do things the right way is to limit the consumption of news. The less bad news is always good than hearing a whole lot of adverse updates around you.
Find feel-good factors in your life
From having a chicken burger to enjoying a day out in the park, everyone has a feel-good factor in his or her life. During or post-pandemic, it is the right time to embrace those factors in your life. You can start by making a list of things to do in a day. You can sit with elders in the house,
have a chat about your career, talk about better things in life, take a walk with your parents or simply watch a new movie. These things will make you lose the filaments of anxiety and you will surely have a sound sleep without
any type of depression.
Embrace social media
During a time when physical social distancing is a usual norm, the digital social arena has come to life. You should not stop using social media during this time as it can help relieve the pressure of tension and stress. You can chat with your friends, family members, or even colleagues through social media.
You can spend your time watching stories, status updates, or posts from your links. You can even do video calling or audio calls or play games together. This will help reduce the feeling of being secluded from the world. Using social media also helps especially if you are isolated. Your phone is your best friend and it will connect you to your other friends and dear ones.
Another good reason to use social media during the pandemic is to have fun or share a little laugh.
When you see a funny video or an image, you can get that smile that was probably missing for a long time. Also, don't forget to spread the laugh by sharing the video you find amusing.
Adopt healthy habits
The only way to stay out of the reach of the corona is to stay healthy. While you can always use
medicines in worst-case scenarios, the idyllic thing is to hold the hands of prevention and never let your immunity down. When you take care of yourself by adopting healthy habits, you inspire confidence in yourself and you become happy and healthy. Here are a few tips to follow to stay healthy during or post-
pandemic:
Keep trying the goodness of homemade recipes to improve your immunity and increase protection against common diseases
Keep exercising on daily basis. You can also adopt habits such as walking or jogging in the morning. If there is a strict lockdown in your area, you can walk or exercise on the roof or on the balcony
Avoid bad habits such as smoking or drinking. If you are a regular drinker or smoker, this is the best time to throw out such habits of your life
Meditate for at least 15 minutes daily. This will help you get a daily dose of positivity as you will be able to focus more on positive things in life
Try Yoga as it is a good way of living. It will make your innermost healthy while elevating your mood to an extent
Spend time with your family members instead of staying alone in your room. Talk with your parents and elders in the family. Have a fun time playing games with your siblings.
Don't forget to stay on track with having a regular and healthy diet. Make sure that you intake all vitamins and minerals required by your body. Try having food that is rich in Vitamin C and zinc content as it will boost your immunity naturally
 Stay with nature as much as possible. To do this, you can plant flowers in your home or go to parks or gardens in and around your locality
The takeaway
We understand how Covid is not something that can be taken lightly. But think about this- you cannot do much about things happening in the world. In fact, most depression comes from facts or events that are not at all in our control. If we take a good look at this particular factor, we shall realize that this type of depression, the pandemic one, is just unnecessary.
Yes, you can be tense when someone in your family is ill or infected. During that time, you need to act and show your love for your family. Going into depression at that critical time is not an option.

Needless to say, pandemic depression is beginning to be a widespread disease that came as a free-of- cost issue with Covid itself. If we follow the above-mentioned steps, we can keep this at bay. We shall realize that it is just a way of thinking that brings in the risk of depression. If we stay strong, follow the tips and remain focused on positive things in life, we can fight the depression and then have the courage to even fight Corona from within.

Add to favorites